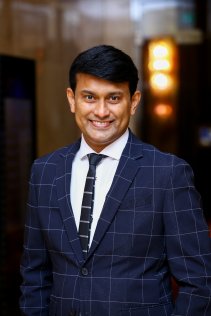 Small and medium-sized businesses (SMBs) make up for almost 94 percent of the total companies operating in the UAE, according to a research by Bloovo Middle East. There is no debate about how important it is to have SMBs thrive to help grow the country's economy.
According to the Bloovo statistics, they contribute 30 percent of the UAE's GDP and employ 72 percent of its working population. While these statistics are from a 2016 study, D-Link believes these numbers would have only increased taking into account the number of new entrants each year.
With the wave of digital transformation taking over at every organisation, SMBs too are looking for new and cost-effective ways to deploy innovative enterprise-level solutions that will help boost their businesses. They are looking to upgrade their networks, have robust cybersecurity solutions, use mobility solutions, avail the benefits of cloud and automation technologies as well as use data and analytics solutions to enrich their operations.
Sakkeer Hussain, Director – Sales & Marketing, D-Link MEA says that channel partners have a real and significant opportunity across all technologies to guide SMB customers select the right technology for their operations.
"They can do this by being trusted and value-added partners. They should help customers with the relevant information that will allow them to choose the appropriate technological upgrade for their business. It can be overwhelming for a SMB customer to zero in on the ideal solution, especially in today's dynamic technology landscape. This is where partners must step in and proactively offer their expertise," says Hussain.
He says that domain knowledge also plays a key role and if channel partners hone their skills in specific verticals and become specialists, they will be in a better position to advise SMBs with the right tools and solutions to accelerate their niche businesses and increase productivity.
"It is important that channel partners customise their strategy for each SMB customer by truly understanding the nitty-gritties of their business and not have a general approach. Channel partners should also keep themselves abreast of current market trends in their specialisations so that they can help SMB customers future-proof the technologies they implement,'' says Hussain.
As SMB businesses grow, they need to have enterprise quality networking and wireless solutions but at cost-effective way. Understanding the requirements well, over the years, D-Link has released a number of products and solutions targeted at the SMB market.
He adds, "We have held and continue to invest in numerous trainings, certifications and workshops for our channel partners to educate them on the fundamentals of SMB businesses and how they should approach customers from these segments. We also continuously work on developing incentive programs, loyalty and post-sales initiatives aimed at partners that cater to the SMB space."
The networking manufacturer boasts of an extensive product array which includes solutions for IP Surveillance, Wireless, Switching, Storage, Security, Cloud, VoIP, Print Servers, Structured Cabling, Digital Home, 3G/4G Routers, Power over Ethernet Kits, Powerline, KVM, Structured Cabling and Digital SMB offerings. The breadth of its offerings gives the company the leverage with SMB focused partners as a one-stop shop.
In addition, Hussain points out that D-Link has specific and dedicated programs directed at the SMB sector to motivate partners to earn more. Coupled with relevant services opportunities, partners can have a higher margin with D-Link offerings in the SMB space.
Growth Drivers in the SMB Segment
SMB customers are looking to leverage emerging technologies to enhance their operations. The rapid rate of technological adoption within this segment is a prime factor for its growth. SMBs are constantly looking for ways to save on time and costs so that they can increase business efficiency.
In this regard, they are embracing cloud, automation and Artificial Intelligence tools and solutions. This further relies on Internet of Things (IoT) technology and fast and stable Wi-Fi connections.
Networking solutions play a vital role in helping SMB companies to stay connected and focus on growing their revenues and reach. Channel partners have an opportunity to ensure SMB customers never have to worry about their connectivity with our solutions. Also, more and more SMBs are looking at increasing their productivity with remote working cultures. This is another factor that will further propel the growth in this segment.
Hussain comments that the SMB market is one of the strongest and fast-growing segments for D-Link. D-Link's broad portfolio gives partners the confidence to face any requirements from customers.
"The main difference with our SMB approach is that we engage partners that have the desire and hunger to learn, grow and make a real difference to small businesses in the region. We have not approached the SMB market by going after established VARs or systems integrators, but rather going after solution providers we believe can develop and share the same desire with us in unlocking opportunities in the SMB space."
This approach in the SMB has helped D-Link to work with a lot of channel partners that want to grow their share of the SMB business. In addition, the company has a lot of products that they are bringing to market and that in itself plays a huge role in encouraging SMBs to invest in their technology and solutions because of the breadth of their product.
However, Hussain adds that the biggest challenge partner's face in this segment is the lack of appropriate skillsets and talents. Not having in-house expertise to cater to SMB customers' demands is something partners continue to struggle with. Other challenges include lack of financial resources and adequate knowledge about the potential and implementation of technologies such as cloud and AI.
"At D-Link, we offer end-to-end support, training and education for these problems and truly enable partners to optimise the opportunities. Partners have to be focused in their approach and look at being masters in specific technology and vertical domains instead of trying to be a jack of all trades."
The vendor has a dedicated SMB Partner Program, as part of its enhanced focus in this segment within the region.
"When we began our focus on the SMB segment, we were keen to work with emerging value-added resellers who had similar aspiration like us, to strengthen business in the SMB segment," he said. "We can gauge a partner's appetite for growth and commitment to building the business together by looking at how motivated he is to avail the benefits the program offers. We wanted to help them chart a growth-oriented future. We are happy and proud to see some of our leading partners grow into the stature they are in today by focusing on growing the D-Link brand in the SMB market."
Looking ahead, Hussain explains that D-Link will witness even more SMBs adopting cloud and IoT technologies to remain competitive in this dynamic marketplace.
He says, "At D-Link, we will continue our role of being an 'enabler' for SMBs and partners in this segment. We will be strengthening our SMB partner program and releasing innovative products in the coming months. We look forward to growing regional SMB business together with our channel partners and expect to scale new heights in 2020."