Ali Al Nuaimi, Chief Commercial Officer at Injazat, a Mubadala company, explains why the government-owned company is the ideal partner for organisations to achieve better customer experience by helping them progress in their digital transformation journey.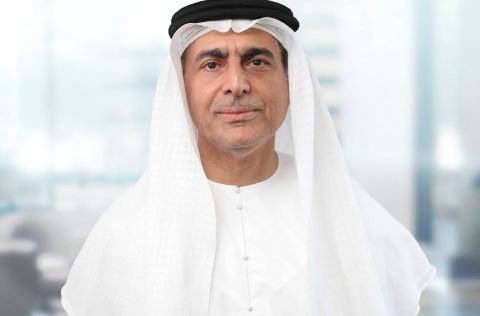 Q1. The emergence of new technologies has forced many industries to embrace digital transformation in order to stay relevant and in-touch with the ever-evolving demands of customers. Can you outline the role Injazat plays in helping companies achieve their digital transformation goals and objectives?
Injazat has a large customer base covering many different sectors, from healthcare to defense, utilities and financial services. Digital disruption has been very challenging for all industries, but the key differentiator between them is the level of maturity and readiness across public and private organizations.
Injazat plays a critical role as a digital enabler and trusted advisor to support our clients in starting or progressing in their digital transformation journey. We do this by helping them to adopt a truly holistic approach, including both traditional technology and process elements and, more importantly, the people and change management dimension – often the most critical barriers for many companies.
Q2. Can you explain to us in detail how Injazat helps enterprises enhance their customer experience offering through digital transformation?
We sit down with enterprises and we help them in three main ways. First of all, we provide customers with a clear and agnostic overview of the quickly evolving technology landscape, as well as the capability to effectively assess different vendors marketing technology solutions that have the potential to transform the customer experience (AI, VR/AR, BI, etc.).
We also help our clients identify and prioritize the pain points and "frictions" experienced by their own clients in their customer journey. Once we have identified their challenges and needs, we can provide a unique mix of advisory, solutioning, implementation and operational capabilities and assets.
Injazat offers customers end-to-end, single accountability in any digital transformation projects aimed at transforming the customer experience.
Q3. Digital transformation is a term that has become prevalent across almost every major industry globally. However, many enterprises have been resistant to change, and have shown an unwillingness to overhaul its operations despite market demands. What risks do businesses skeptical of digital transformation take by not embracing new technologies?
From a revenue point of view, enterprises who stays idle and do not embrace digital transformation are forced to cut prices and focus only a reduced segment of the market, causing a progressive erosion in margins and slower growth rates. At the same time, they will have to find a space in a highly competitive digital market.
Over the past years we have seen the breakthrough of digital-native competitors entering the market with a completely new business model, like in the case of Uber, and disrupting entire industries. On top of that those incumbents who have been faster and more aggressive in adopting a digital strategy in the battle against new entrants will also pose a risk for enterprises who are not embracing new technologies.
Q4. Injazat has firmly established itself as a market leader in the Middle East for Information Technology, Data Center and Managed Services. In your expert opinion, what do you think it is that differentiates Injazat from its competitors?
First and foremost, the level of trust public and private organizations can extend to Injazat based on its long track-record, government-owned status and vendor-independent approach to solutioning. Second, the capability to be a true strategic partner for major digital transformation projects and digital ventures. We are willing to share both risks and rewards with our clients. Injazat is able to timely deploy the level of resources and investments required from our clients. This is possible because we are uniquely positioned to take end-to-end responsibility from idea generation through solutioning, implementation and operation.
Q5. Can you highlight to us what are the key characteristics in Injazat's Digital Strategy roadmap?
Injazat's Digital Strategy roadmap has three main pillars:
1. Expanding our Digital Business Advisory and Digital Ventures practice and capabilities, also through collaboration with strategic partners
2. Developing a range of new solutions and services addressing our client's most pressing and urgent needs and priorities through a pragmatic and agile adoption of Emerging Technologies
3. Leverage Injazat's InCloud platform to host and provide access to the rising number of new Emerging Technologies solutions being added to Injazat's portfolio across three main domains – AI, IoTs, Blockchain.
Q6. Do you have any major projects in the pipeline that you're going to announce in the forthcoming few months?
We have signed a strategic long-term partnership which will enable our clients to generate significant savings, to re-invest to accelerate their transformation program. We have also recently been awarded a landmark project to revolutionize the traditional concept and customer experience of a visitor to a public space by integrating their physical and digital journeys.
Q7. What are your primary roles and responsibilities as Chief Commercial Officer at Injazat?
As Chief Commercial Officer, I head up the Sales, Customer Relationship and Marketing and Communications teams. Injazat thrives on innovation and we have great teams full of talented individuals from a range of disciplines. One of the key areas that I take care of is building agile, high performing organizations and teams.
Our partners and customers are extremely important to us, of course, and we work hard to create a culture of collaboration. We want to enable Injazat teams to form deep relationships with key partners, as the organization moves clients forward on their path to digital transformation.
I personally oversee over 50 accounts and numerous executives and managers, and I act as an adviser to the C-Suite and other top executives across business platforms on priority issues and challenges.