CNME October 2019
HPE'S managing director for the UK, Ireland and MEA MARC WATERS in how the IT leader is deploying new technologies …
Driving data value
Editor Mark Forker spoke to Damian Wilk, Senior Regional Director at Veritas, to understand how the company is helping its customers drive business value from their data.
ERP's hidden gem
Michael Ouissi, Chief Customer Officer and Mehmood Khan, MD and VP for Middle East and South Asia at IFS, discuss their approach to ERP and future plans in the region.
"Time to market is faster with containers": GBM
CNME spoke to Andreas Weiss, Vice President of Platforms Solutions at GBM, who shed a light on containers technology, a gamechanger for building and deploying applications.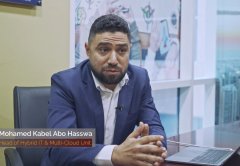 0
1573
Mohamed Kabel, Head of  Hybrid IT and Multi-Cloud (HIC) business unit at Emircom explains the challenges organisations in the region …