Tahawultech.com spoke to Andreas Weiss, Vice President of Platforms Solutions at GBM, who shed a light on containers technology, a new solution that is predicted to be a gamechanger for building and deploying applications.
Containers technology is still at its early stage, but according to a research by 451 Research, application containers will be a $4.3bn market by 2022. Can you tell us a bit more about this technology and its main role and characteristics?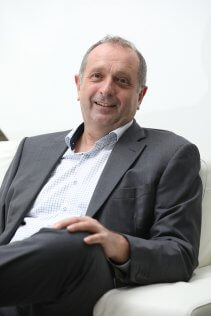 Containers technology is still developing, and the adoption in the region is still slow, even though we can already see the huge potential and opportunities it can create for organisations. According to a recent Gartner report, containers play a main role in infrastructure, particularly when it comes to building and deploying new applications. In today's digital economy, speed is fundamental, and time to market is actually faster with containers than it is with current solutions – containerised applications can be delivered in hours instead of months with the traditional approach.
Containerised application is also "light weight" by design, which means they can easily be ported across different environments. With containers, there's a much greater portability of the application between bare metal, virtual, or private and public clouds. We believe they are one of the main solutions to get a software to run smoothly and consistently when moving from one computing environment to another. The third main characteristic of containers is agility – containerisation allows for easy deployment and management, thus increasing overall productivity and efficiency.
Due to the novelty of this technology, many organisations are still wary of it and its real impact on infrastructure. How would you say containers technology specifically help an organisation's infrastructure?
Containers help the IT infrastructure by improving resource efficiency and density. They have a higher utilisation level with regard to the underlying hardware, requiring less hardware and resulting in a reduction of bare meal cost as well as datacentre cost. They can deliver efficiency through far fewer resources, while also delivering higher utilisation of compute resource.
The main problem we see arising within our customers base and organisation in general is that when changing computing environments, the software will have to run on it and in most cases, the environment will not be the same. The storage and network policies will be different which might lead to many challenges. Containers can solve this problem by being able to have an entire runtime environment. When you contain an application or network platform, the underlying infrastructure are abstracted away.
What is GBM's approach to containers? How are you planning to help your customers with containerisation?
As I've mentioned, the adoption of containers in the Middle East is still quite slow, but we are seeing a pick-up in this part of the business, with more and more organisations looking into this solution.
As a system integrator, GBM is working with the relevant vendors to consult and advice customers on choosing the best approach to containers. We have also strongly invested in training and skills to make sure we can provide the best service possible from beginning to end. We aim to help customers in the modernisation and refactoring of applications – that's very important to us, on top of providing the infrastructure of course.
What is the difference between containers and virtualisation? Why would you say containers are the better choice moving forward?
The main difference between containers and virtualisation is that containers have a way to virtualise an OS where multiple workloads will be able to run on a single OS instance. With virtualisation, this is limited as the hardware runs on multiple OS instances, so it varies from one environment to another.
As I've mentioned before, containers have a much better time to market. They are faster and have more agility. For example, if one wanted to operate on different systems, it will have to use a specific virtual machine for every single whilst with containers this is not the case anymore.
One of the most debated aspects of containers is their security, or presumed lack thereof. Are containers indeed less safe than virtualisation?
There is indeed a debatable belief that containers are less secured than a virtual environment, but in the last couple of years there has been a great deal of work towards developing a software to increase the security of containers and make it more efficient. As a matter of fact, OpenShift, or any other container platforms, come with built-in security features – security is literally "out-of-the-box" and implemented from day one.
Earlier you've mentioned the importance of speed in today's digital economy, and how infrastructure plays a big role in this aspect. How can GBM's digital infrastructure solutions help customers move forward in their digital transformation journey?
Infrastructure for us is all about having a strong foundation on which to build your digital solutions. For many years, GBM's heritage and capabilities has allowed us to build a sound infrastructure solution for our customers. We understand many of our customers are looking at digital transformation solutions to drive innovation, which can only be possible with an invisible yet strong infrastructure that will allow IT to reap the benefits for the whole business. At GBM, we are engaging and working with proven technology leaders to deliver digital infrastructure solutions that are reliable, fast, agile and that will reduce cost for our customers.