Reseller ME April 2020
How Avaya's new IP Office Subscription solution is making it easier than ever for midmarket firms to consume innovation.
Leverage cybersecurity innovation
Tenable's Maher Jadallah opines that channel partners need to be on the lookout for technologies that will deliver on the cybersecurity promise – secure by design.
Transforming productivity
Lenovo DCG's Dr. Chris Cooper, shares insights into the IT-giant's business continuity strategy in times of remote working.
Top channel chiefs
We profile the top leaders from across regional channel firms who have stood out successfully despite challenging market circumstances.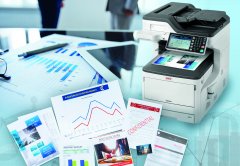 0
1373
OKI Europe has launched the MC883, a user-friendly A3 colour smart multifunction printer (MFP) for the professional services sector where fast, accurate and secure document management is essential to meeting client needs.