CNME April 2020
Mubaraka Mubarak Ali Ibrahim, Director of IT department at the Ministry of Health and Protection (MOHAP), outlines how CNS Middle …
Women in tech: HPE's Kinda Baydoun
In this monthly feature, CNME talks to some of the best and brightest women in ICT to find out more about how they've reached success in this industry.
Enabling fast change
Karan Dixit, VP Sales – MEA, at UiPath, explains how the RPA leader has been supporting organisations during the COVID-19 pandemic.
Fulfilling customers' needs
Sandiip Chhabra, Sales Director for MENA at SUSE, outlines how the organisation is helping its customers to simplify, modernise and accelerate their digital transformation journey.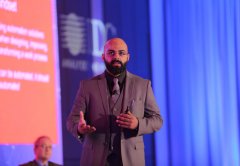 0
5480
Deputy Editor Giorgia Guantario talked with Karan Dixit, VP – MEA, at UiPath, to understand how the RPA leader has …