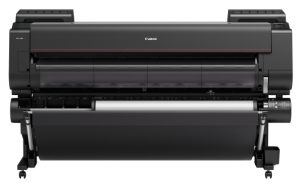 Canon Middle East has launched its new 12-colour 60-inch large format professional inkjet printer to complete imagePROGRAF PRO series. The PRO-6000 offers photo printing with a 12-colour ink system, dual-roll printing for productivity and a space-saving design. As the largest model with the largest ink system, the imagePROGRAF PRO-6000 rounds off the full line of printers in the Canon PRO series.
The wide colour gamut of the PRO-6000 enables photographic output of exceptional quality, which is now available in 60 inches. Ideal for advertisements, graphics and posters for indoor and outdoor use, the PRO-6000 features the newly developed LUCIA PRO pigment ink and transparent Chroma Optimiser ink for printing with colour expression, black reproduction, good gloss characteristics and suppression of bronzing. Canon said thanks to its unique input-output technology and Crystal-fidelity feature, photos look as accurate printed as when they were captured, thus meeting the demands of the most critical photographers and graphic arts designers.
 The newly developed Multifunction Roll System enables unattended use for multiple purposes using different media types with a single printer. In addition, simultaneous loading of the two types of black ink allows loss-free and automatic ink switching across various media. With a powerful L-COA PRO high speed image processing engine, the new PRO-6000 is capable of processing large volumes of high-res images and data with ease. As a result, the new device enables poster-quality printing at a faster speed of current imagePROGRAF 12-colour models. Full connectivity and Wi-Fi functionality ensure optimum productivity for busy environments through seamless integration with existing networks. The compact design of the PRO-6000 also makes it ideal for space-pressed print operations and other businesses that had forgone the introduction of a large format printer.
Ayman Aly, senior regional marketing manager, BIG Marketing, Canon Middle East, said, "The imagePROGRAF PRO series is dedicated to a high balance between print quality and productivity. Efficient media handling and high-speed uninterrupted printing to support high-volume output are fast becoming fundamental requirements for both print-for-pay and print-for-use environments.
"As an imaging company, we understand the importance of fine detail and precise colours to professional users. For discerning photographers and graphic artists, the stunning quality output and powerful technology of our 12-colour devices is unmatched by the competition. Naturally, we are very excited to have completed the PRO suite of printers and to begin rolling out the new imagePROGRAF PRO-6000 this year."
The new imagePROGRAF 6000 will be available across EMEA from 1st September 2017.