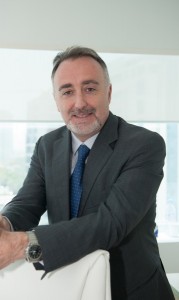 Emerson Network Power, a business of Emerson and a provider of solutions that enable maximising availability, capacity and efficiency of critical infrastructure, today announced a strategic alliance with regional distributor Mindware in the Middle East and North Africa (MENA).
Through the agreement, Mindware will deliver Emerson Network Power's single-phase uninterruptible power systems (UPS), power distribution units (PDU), racks and accessories, coupled with an unprecedented level of specialist consultancy and after-sales support across the region.
After three decades  in the Middle East and Africa (MEA), Emerson Network Power is leveraging its strength in emerging markets to address the needs of SMB segments through its expanding IT channel, it was reported. Adding to a strong portfolio of established system integrators in the region, Emerson Network Power's collaboration with Mindware bolsters its capability to deliver  world-class critical infrastructure products and solutions to the region's fast-growing SMB market.
Pierre Havenga, MD for Emerson Network Power Systems in MENA, said, "In our three decades in the region, we have built up strong partnerships and can proudly say that we are a major player in the medium and large data centre infrastructure market. The next step is to address the SMB market through the IT channel and there is no better way to do so than through a partner like Mindware. The addition of Mindware to our established  partner network will contribute towards achieving our year-on-year double-digit growth in the region."
This alliance also adds another leading technology supplier to Mindware's portfolio of solutions.
Emerson Network Power and Mindware will deliver world-class UPS and PDU technology, racks and accessories to Mindware's 2,500-strong regional reseller network and team of certified consultants. Training and support will be a vital component of the partnership, so that resellers are equipped  to ensure SMBs benefit from the technology and meet their evolving infrastructure needs, sources said. Rather than targeting a specific vertical market segment, Mindware will deliver products and solutions by Emerson Network Power that address the entire ICT critical infrastructure space, recognising that no matter what sector the end-user is in, their need to reliably and efficiently store servers or provide secure power is the same, the company said.
"Economic diversification is fuelling growth in sectors from oil and gas to manufacturing, finance, transportation, communications and healthcare across the Middle East and North Africa," said Mario Gay, GM at Mindware. "Typically, these are businesses that cannot compromise on mission critical infrastructure to underpin their operations. At Mindware we are committed to partnering with the world's best-known brands to offer a one-stop-shop for world-class innovation coupled with the essential value-added consultancy and support services that make a reliable investment. Our collaboration with Emerson Network Power is a strategic addition to our portfolio, taking our business into the field of critical infrastructure and enabling us to offer exactly the right solutions for these customers."