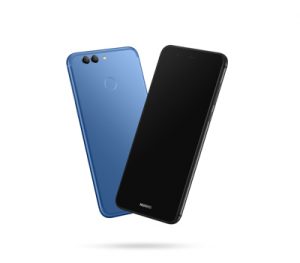 Huawei has introduced the Huawei nova 2 Plus in the UAE. According to the firm, the new smartphone takes the user experience to the next level.
Huawei nova 2 Plus features an upgraded camera that captures selfies, an advanced audio experience, a stylish design and a high performance. Equipped with a unique 20MP high-definition front camera, a 12MP and 8MP rear dual camera and a professional portrait mode, the nova 2 and nova 2 Plus can produce great quality selfies, said the company.
"Our Huawei nova 2 Plus is one of the most sought-after products among young consumers as a result of its innovative aesthetics and superior usability," said David Wang, UAE country manager, Huawei Consumer Business Group. "We've drawn on our most dynamic users' style and attitude as inspiration to take the Huawei nova 2 to the next level. Featuring breakthroughs in selfie functionality and a distinctive design, these devices celebrate the individuality, energy and optimism of today's consumers."
The Huawei nova 2 Plus is equipped with a unique 20MP front camera and Huawei's 3D facial recognition and optimised beauty feature to deliver crisp and clear portraits. Equipped with photography applications for every moment or scenario, the smartphone offers a high-quality selfie experience to young users, according to Huawei. Featuring a range of intelligent algorithms including a portrait algorithm, the new smartphone offers high-resolution photography capabilities; it can enhance face shapes and skin colors, while studying the relative position of facial features and skin types as well as textures to deliver more natural and true-to-life portraits.
The Nova 2 Plus includes several front camera features. In low-light conditions, the Huawei nova 2 series uses the LCD screen flash with 11 colour temperatures for different degrees of illumination. The front camera also allows users to shoot selfies with a bokeh effect, creating the blurred background similar to that generated by wide-aperture professional portraits. With a new 10-level beautification mode and a new gesture shutter for taking pictures, perfect selfies are much easier to take.
The smartphone is equipped with a 12MP and 8MP rear dual camera to capture more detailed images. The dual RGB lenses deliver optical zoom without compromising the image quality. For fast and precise focus in low-light environments, the rear camera features a F1.8 aperture. In addition to portrait mode, the bokeh effect can be adjusted after a picture is taken to achieve different visual effects.
From the 5.0/5.5-inch screen, to the smooth metallic unibody measuring as little as 6.9mm, the company said that special attention has been given to all aspects of the nova 2 and nova 2 Plus to ensure they cater to the busy lifestyles of young consumers.
The Huawei nova 2 Plus' chic design and trendsetting selfie functionality is backed by the Huawei Kirin 659 chipset powerhouse. The combination of the Kirin 659 chipset with EMUI 5.1 and Android 7.0 ensures that the series will not slow down over time.
The device also boasts "exceptional battery life and quick charging solution". It takes the devices just 30 minutes to power-up to 39 percent and 43 percent respectively. Long-lasting battery life is further ensured through Huawei's Smart Power Saving 5.0, which can prolong battery life by up to three hours. The new series is also equipped with features including Eye Comfort 2.0, Phone Clone and Huawei Share, making the user experience more comfortable and efficient.
When it comes to sound quality, nova 2 Plus features HiFi chips, which minimise distortion, harmonics, noise and other disturbance with audio processing. Huawei also applied the Huawei 2012 lab's sound algorithm Huawei Histen for the first time – an algorithm that includes 10 targeted modules for various effects, such as 3D stereo sound.
To ensure premium sound quality, the firm said that the nova 2 Plus supports aptX wireless Bluetooth technology, which, when it comes to videos and games, has the shortest time lag of all Bluetooth audio coding.
The Huawei nova 2 Plus will be available in black, gold and blue from 28th July across UAE retailers at a price of AED 1,399.