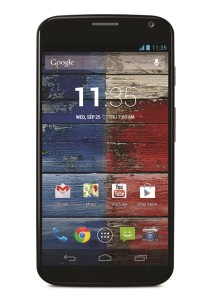 Motorola Mobility has unveiled its flagship device, Moto X with its Middle East and Africa distributing partner, Redington, in the regional market.
Talking at DISTREE Middle East 2014, Marcus Frost, Senior Marketing Director, EMEA & APAC, Motorola Mobility says, it's no longer about the hardware but today it's about how efficient the software is.
"Moto X fuses our history of mobile innovation with the best of Google mobile services to create experiences that no other smartphone can match. The UAE consumer is discerning and we are bringing a strong proposition to this market so that it changes the mobile experience for them. Moto X has been very well received across markets and would continue to add to Motorola's momentum in the region and across the globe," explains Frost.
"At Redington, we are quite enthused to be the exclusive MEA partners for the Moto X launch. We are also launching the product in Ghana in Africa. The appointment of Redington by Motorola as a distributor for the Moto X in the Middle East is a strong endorsement of our distribution capabilities across MEA markets and of our strong relationships with the channel partners in this region. The state-of-the-art supply chain system at Redington can offer fast and efficient delivery services to mobile dealers and retailers throughout the region. We are working closely with Motorola Mobility to optimise availability across markets," says Jim Matthews, Vice President, Telecom Vertical (MEA).
According to the company, Moto X aims at making the customers' lives even simpler. With its 'OK Google Now' feature, the user can get directions while driving, set an alarm or simply find out about the weather without touching the screen. The company is expecting to bring about many welcome changes in the user's lifestyle by controlling the phone through voice. Added to that, the device gives useful information at a glance through Active Notifications, which appear on the screen. This way, the user doesn't have to power up the entire phone just to know the time or notifications, says Frost. One of its other features include simply twisting the wrist twice to have the 10MP camera application instantly ready for use. Also, says Frost, the user could touch anywhere on the screen to capture a picture.
Moto X will be available in the market in June in black or white for AED 1599.