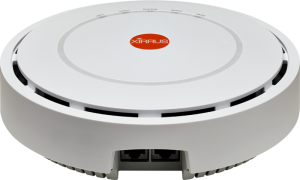 Riverbed has launched its first Wireless Access Point, post its acquisition of Xirrus earlier this year in April. The new Xirrus AP (Model XD2-230) is an 802.11ac Wave 2 Wireless Access Point.
The device comes with a number of key features. It features 3.9Gbps total Wi-Fi bandwidth. The 802.11ac AP can be managed from the cloud or on premise. The AP is designed with a powerful integrated controller, providing layer 7 application visibility to help businesses keep up with the demands that applications are putting on Wi-Fi, according to the company.
Management and control is provided by the cloud or an on-premise based Xirrus Management System (XMS), enabling complete visibility and control for all devices and applications from a single console.
The onboard controller enables application-based policy control, integrated location services, and software-defined radios directly at the network edge, eliminating the cost and complexity of additional controllers and service appliances, and reducing total cost of ownership (TCO) by 30 percent or more, said the firm.
With 3 radios, including Bluetooth Low Energy (BLE), the XD2-230 model provides secure access for Wi-Fi users and Internet of Things (IoT) devices with an easy-to-use SaaS solution, while helping enterprises scale and adapt to evolving demands.
Secure access for an unlimited number of users/devices is delivered by the EasyPass SaaS solution. EasyPass simplifies secure Wi-Fi connectivity with integration to the Microsoft Azure and Google application ecosystems, enabling single sign-on to both user applications and Wi-Fi. Simple and secure onboarding for BYOD and IoT devices is supported by unique per-user security credentials that lock down access at a device level.