SpaceX's jumbo rocket built to be the world's most powerful launch vehicle blasted off from Florida on Tuesday in its maiden test launch in a milestone for Silicon Valley billionaire entrepreneur Elon Musk space company.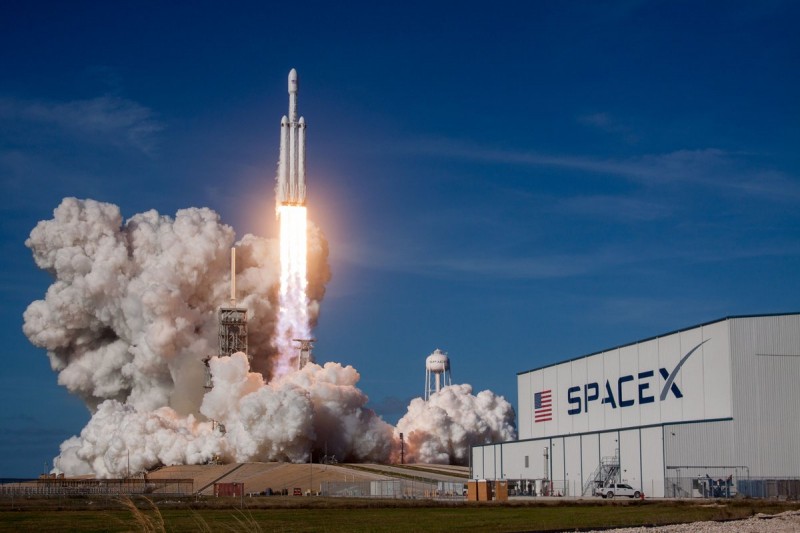 The 23-story tall Falcon Heavy, carrying a cherry red Tesla Roadster automobile into space as a mock payload.
Falcon Heavy cleared the launch pad without blowing up – a feat Musk had said would be enough to deem the mission a win, said a Bloomberg report.
The rocket then reportedly continued on to deliver Musk's cherry red Tesla Roadster with a space-suit wearing mannequin at the wheel toward an Earth-Mars elliptical orbit around the sun.
"It seems surreal to me," Musk said during a post-launch press conference. "Crazy things can come true."
Musk said he wants "a new space race," telling reporters after the launch he thinks Falcon Heavy's success will "encourage other companies and countries" to be ambitious in the same way as SpaceX.
According to CNBC, the launch was the most ambitious yet for Musk's space company, putting it at the top of a short list of available heavy lift rockets. Falcon Heavy is both more powerful and capable of lifting more weight than the biggest rockets offered by either United Launch Alliance (a Boeing and Lockheed Martin joint venture) or Arianespace — at a fraction of the cost.
Musk told reporters that SpaceX "tried to cancel" the Falcon Heavy programme three times when the company realised "wow, this way harder than we thought." He said the firm's total investment reached over half a billion.
More than the successful launch, SpaceX accomplished a feat never before seen in space history, re-landing two rocket cores back on earth. Two touched down on land in tandem; the third centre core that was slated to settle on an unmanned drone ship ran out of propellant needed to slow down the descent and slammed into the ocean instead.
"The centre core didn't land on the drone ship," said Musk, who said early reports are that the rocket booster "hit the water at 300 miles per hour and sprayed the drone ship with shrapnel."
The successful test flight means that SpaceX can move forward with Falcon Heavy missions for paying customers, with the first to take place within three to six months.
Musk founded SpaceX in 2002 and has led the company since the beginning. Falcon Heavy was developed without any government funding, and took far longer than originally planned.