IBM's annual conference, IBM InterConnect was held in Las Vegas this year, filling the meeting rooms of Mandalay Bay and MGM Grand with IBM partners, customers, experts and enthusiasts from 21st-25th February. Annie Bricker reports.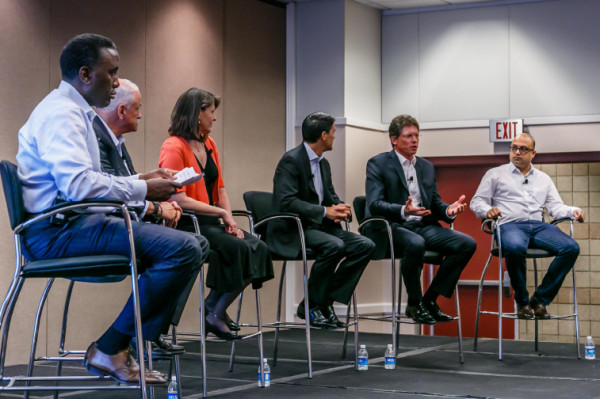 The theme of this year's IBM InterConnect invited attendees to "Out-think limits" which, over the course of the week, translated into a number of exciting and innovative ways to use existing IBM solutions, and the announcement of new partnerships and solutions from the technology giant.
The line-up of IBM evangelists was interesting and varied, including a blind ultramarathoner, an innovative highschool science teacher, a 12-year-old developer and a master inventor all demonstrating the abilities of IBM solutions such as Watson, Bluemix and, more generally, the Internet of Things. General sessions at IBM InterConnect this year were determined to focus on real-world applications of new and existing IBM technologies, giving tangible inspiration to customers and would-be customers alike.
Day one's General Session saw tens of thousands of participants pour into the arena at the MGM Grand to face leaders from Wastpac, Alpha Modus, and Siemens. However, the star of the moment was VMWare with the announcement of a strategic partnership with IBM as well as the announcement of Apple Swift.
As for VMWare and IBM, the companies plan to market new offerings for hybrid cloud deployments jointly. "We are reaching a tipping point for cloud as the platform on which the vast majority of business will happen," said Robert LeBlanc, Senior Vice President, IBM Cloud.  "The strategic partnership between IBM and VMware will enable clients to easily embrace the cloud while preserving their existing investments and creating new business opportunities."
IBM also announced  that Swift, Apple's young programming language, would be receiving an IBM Cloud twist. "Modern digital apps require a modern programming language. Swift is easy-to-learn, reliable, fast and interactive, the key traits that CIOs look for when building the next generation of enterprise mobile apps," said Michael Gilfix, Vice President, IBM MobileFirst Offering Management. "Swift on the cloud is an opportunity for enterprises to radically simplify the development of end-to-end applications and therefore reach new levels of productivity."
The second day of InterConnect was a day for real-world applications. IBM experts Tom Rosamilia and Harrier Green outlined actual use cases and showed attendees how global leaders are using solutions like SoftLayer, Watson, IBM Security and IBM Cloud Data services to keep businesses streamlined, scalable and safe. "Twenty-nine billion. That's how many devices will be part of the Internet of Things by 2020. It literally touches everything – a digital fabric that connects the physical world around us," said Harriet Green, GM, Watson IoT, Commerce and Education.
The conference was the stage for a number of announcements, in both the solution and partnership arenas. In terms of new partners, the crowd heard from a few familiar names, including URL truncating site Bitly. During the morning of the fourth day of the summit, the CEO of Bitly addressed the crowd to discuss how the company plans to leverage IBM's new tools to serve the end-user. "I'm thrilled to be here to announce that we have selected IBM Cloud as our preferred cloud platform," said Mark Josephson, CEO, Bitly. "We are migrating our platform of 25.6 billion links to the IBM Cloud."
The EXPO floor was populated with exhibitors and sponsors from around the world, all demonstrating their IBM-enabled technology and solutions. InterConnect 2016 wrapped up at the end of the week with last-minute knowledge from InterConnect Academy and entertainment from the legend Sir Elton John.