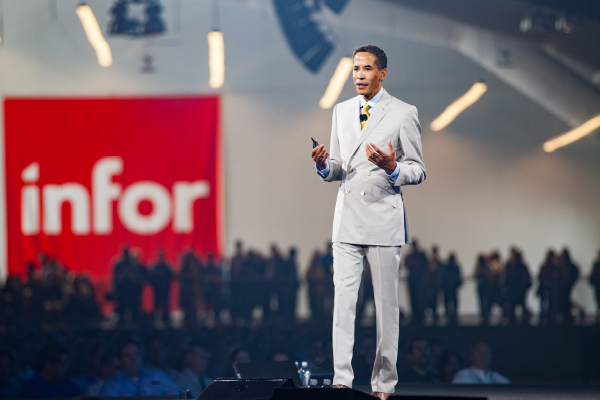 CNME reports from Inforum 2016 in New York City, where Infor executives eyed up the range of application opportunities that await in the Middle East. 
The analogy of glassmaking held a certain irony. Chief executive Charles Phillips kicked off proceedings for the latest edition of Infor's biggest annual meet with a nod to the rise of an industry that migrated from the Middle East to Venetian island Murano. Initially confined to the production of beautiful glass products, Murano would become a hub for an industry that spawned the lens, microscope and telescope, Phillips said. If the conference that followed his keynote was anything to go by, it may be the Middle East's turn for a defining import.
"Adjacent innovation across verticals is something we're passionate about; we want to transform industries by looking across them and cross-pollinating," Phillips said. He conceded that his company's progress has been a gradual evolution under his stewardship. "We're a company that's always been in transition for the last five years. It can be difficult to know what to talk about at Inforum because there's always so much going on."
Nevertheless, Phillips stressed that the transition facing business in 2016 would move at a considerably faster pace than the centuries it took for Murano to reach its production peak. Infor president Duncan Angove echoed this sentiment, saying that the company had defined its niche with multi-enterprise ERP. "Digital disruption is now all around us," he said. "Kodak didn't realise it was in the memories business. Blockbuster didn't know that it was an entertainment company. The way that Instagram and Netflix have surpassed these companies is staggering."
Infor has invested $2.8 billion on developing its application layer over the last five years. Their number of customers has risen to 90,000 in the process, and a striking stat accompanies it – as of April 2016, "50 percent" of Infor's sales came from cloud products.
"We're staying focused on the application layer, and industries, not infrastructure," president Stephan Scholl said. "It was maybe a case of ripping off a band aid for us, and moving away from infrastructure, which has now become commoditised. We realised that building complete industry solutions would be the way forward."
Along with other executives at the event, Scholl was at pains to stress the importance of user experience in Infor's applications. H&L Digital – Infor's new division to provide "end-to-end digital cloud solutions with design at their core" – was also announced in New York. "We don't believe users should have to modify their software," Scholl said. "Two years ago at Inforum, Charles said that the quality of enterprise software in the market sucked. We've strived to make beautiful applications for our customers."
World-leading cloud provider Amazon Web Services (AWS) provides Infor's infrastructure. AWS is yet to build a data centre in the Middle East, however. With that in mind, Scholl was also at pains to highlight how the Middle East was exactly the kind of market that Infor is trying to capture. He used Germany – a country that has stringent regulations regarding data governance – as an example of the promise that awaits the GCC in terms of its cloud prospects.
"It costs hundreds of millions of dollars to build a data centre. Salesforce just built their first data centre in the UK. Nobody has a share of wallet to build out data centres in the Middle East, Asia and China like AWS does. They've built a data centre in Frankfurt, which is now their fastest growth centre in the world. Now who's next? Look at the Middle East. We're talking about billions of dollars of future opportunity where companies are leapfrogging the notion of going to on-premise systems; they're going purely to the cloud.
"Nobody except us today is running the biggest business opportunity – business critical applications – in the cloud."
Scholl's comments around the region are seemingly not just empty words. Infor also announced the establishment of its IMEA – India, Middle East and Africa – business unit, which Tarik Taman will lead from the Dubai Internet City office. Taman had been Infor's global head of its human capital management business since 2009, and he has said he plans to "quintuple" Infor's IMEA market share by 2020. The primary focus industries for the company in the region will be manufacturing, distribution, retail, hospitality, and healthcare.
"With oil prices declining, and governments investing in initiatives to spur growth in other sectors, there is a thirst for cloud software that provides flexibility and solves critical business issues and can be deployed quickly without a massive, costly customisation project," he said.
To support its IMEA business, Infor has made many new recruits for its DIC office, and in its newly-opened base in Riyadh's Kingdom Tower.