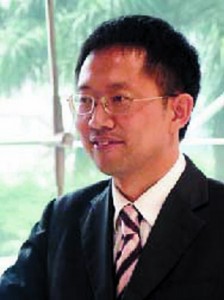 Huawei Technologies wants to be the number one choice for enterprises,
especially in emerging markets, and is using its solutions internally to set an
example. However, what they need to make a mark might be decentralisation
and a strong channel community.
Huawei Technologies, the leading networking solutions vendor from China, expects the enterprise division of the business to contribute 20% of overall revenues by 2015. According to David He, president of marketing for the enterprise business group, the enterprise division, which was officially launched by the company earlier this, is expected to grow by leaps and bounds in the next few years.
"We want to be the number one provider of end-to-end ICT solutions connected to the data centre and the network, especially in emerging markets like the Middle East, by 2015. And we want to do that by staying true to Huawei principles. We don't want be to just another global provider, we want to be Huawei," says He, with pride.
According to He, much of the growth that the firm is targeting in the enterprise segment will be enabled by expanding its current presence in countries around the world. It will capitalise on its current telecom-focused sales establishment in 140 countries, build enterprise teams, and also create and enable a channel partner base in order to reach more potential customers in the public and private sectors.
"In the enterprise segment, we see a lot of interest from varied verticals, like
education and healthcare. This is especially true for developed markets like North
America and Europe. In developing markets, we see a lot more ICT investment being
made by public sector and government bodies. In tune with that, we see more potential interest in our enterprise solutions coming from this particular sector in these markets. This is true for the Middle East region as well," says He.
The company prides itself on its strong R&D base. More than 50,000 of its 120,000
staff strength is focused on R&D and it re-invests 10% of global revenues back into
product development every year. According to He, the R&D process is driven by constant feedback from customers across the global in a system that is referred to internally as integrated product development.
"In this system, we translate the market terms of the customer into technical language, and keep the customer informed about when they can expect the launch
of the product with the relevant updates. While this is an extremely mature process
for our telecoms arm, the process will work slightly differently for the enterprise business. With the new division, we expect to collect fresh feedback from our
customers directly, but we also expect our global and local partners to help us in not only collecting these thoughts from customers but to help us integrate this into
future versions of products as well," says He.
As the company finalises on its acquisition of Symantec's stake in the Huawei-Symantec joint venture, He assures that there will be more security and storage oriented solutions coming out of that side of the business next year.
"We already have products from the joint venture which are functioning as integrated elements with our current solution sets, including in our cloud solution. We will continue to innovate in that area and launch more solution sets meant for enterprises in the coming months," added He.
Huawei also wants to put forth its success with its inhouse use of its new solutions – especially the desktop cloud solution – as it works to convince customers about its ability to step beyond networking and communications, into the sphere of entire data centres – right from building them to managing them.
However, the highly centralised and strongly controlled Chinese company has its work cut out for it as it steps beyond the telecoms segment and attempts to convince
global enterprises. Apart from the strong solutions that it is planning to launch in the new year, it requires a well-thought out marketing plan and a reliable channel partner strategy in order to reach the goals it has set itself.
A cloud desktop
In Huawei Technologies' new R&D centre in Shanghai, 8000 staff work on improving the company's products and solutions across its entire range of offerings.
"The technologies that these personnel work on include everything from our telecom offering to the more recent enterprise focused offerings. They also work on our platform of cloud solutions, where we provide our customers cloud-based data centre – everything from virtualised servers to storage and security, right down to a cloud-oriented desktop solution," says He Li Yang. president of solutions Huawei enterprise global markets.
In the interest of eating its own dogfood, achieving higher efficiencies for its large workforce, and to prove to customers as its own best case study, Huawei has been using its cloud desktop solution across the R&D centre at Shanghai.
"In the traditional desktop environment, data was stored on the hard drive of each PC. It was fragile and could easily be attacked by the latest virus or Trojan. Due to its instability, the system was prone to a variety of software and hardware failures and even system crashes. In addition, the data loss caused by device failures was difficult to restore," says Yang.
He continues, "Huawei had to spend astonishing additional costs in information security issues. To prevent a series of information security breaches, Huawei bought a large amount of information security management software every year, installed a special security lock on each PC, and appointed full-time employees to manage and maintain security locks. Each person maintained an average of 1200 PCs, which cost about RMB 4.78 million per year. In addition, the labor costs wasted in waiting for unlocking reached RMB 5.65 million per year."
Apart from this, the high power consumption, the shorter life cycle and the higher failure rate of the systems had Huawei consider the cloud desktop solution to replace all desktops used by largely stationery employees across the organisation.
"The implementation was split between two phases. The first phase covers all the offices of the Shanghai R&D research centre and supports 10,000 employees. This is complete now," he said.
"The features of the desktop solution include three logical security areas (red, yellow and green) defined according to employee types, local disk-free thin client (TC) with digital certification of access authentication, SSL-encrypted transmission that ensures system security, and multiple access authentication modes for unified authentication on the desktop cloud platform. There is also high-speed internet, resource management and scheduling across multiple data centres. Besides this there is office use at daytime and integrated testing at night to utilise existing resources to the maximum potential," says Yang.
According to the company, it has already achieved multiple benefits from the desktop cloud solution.
"After the desktop cloud deployment, data is no longer stored separately on each PC, but uniformly on servers in cloud data centre. Information is separated from PCs, which fundamentally ensures information security. In addition, multiple security mechanisms, including thin client (TC) access authentication and transmission encryption, further ensure the security and reliability of the desktop cloud system. A desktop cloud data centre is able to automatically manage and control resources. It automatically controls the resource load during the day to ensure physical server load balancing, and shuts down unnecessary physical servers based on virtual machine resource status at night to save energy. Maintenance-free TCs have simple hardware and software structures and do nothave local storage. In the desktop cloud environment, each IT employee can manage more than 1,000 virtual desktops, 10 times more than that under the traditional PC office environment. As such, Huawei's IT system management and maintenance cost is greatly reduced," says Yang.
In the desktop cloud environment, all services and applications are running in the data centre; therefore, the application reliability reaches a carrierclass of 99.999%, which is much higher than the that of the traditional PC environment. The total power consumption of a TC and an LCD is about 70 W, over 50% lower than the 200 W power consumption of a PC. Employees can remotely access desktops at any time on different devices in the office or laboratory, on the move, or at home. Since the data and desktops are uniformly running in the data centre, users can uninterruptedly run applications when seamlessly changing office locations.
"In the desktop cloud environment, all resources are stored in the data centre, achieving centralised control and flexible scheduling of resources. It takes only several minutes to adjust the performance of a user's desktop. Rapid resource provisioning and on-demand use become a reality. Centralised resource sharing also improves resource utilisation. The average CPU usage of a PC is less than 5%, while in the desktop cloud environment, the CPU usage of the cloud data centre is about 60%. This improves the overall resource utilisation, which is equivalent to the reduction of the total hardware resources, thereby achieving energy conservation and emission reduction, and also reducing the hardware costs of Huawei," says Yang.
With all the benefits it has obtained, the company is already working on phase two of the desktop cloud solution, where the project is taken to cover all overseas research centres and service departments of Huawei headquarters in Shenzhen, and will support 60,000 employees. This is currently under construction.