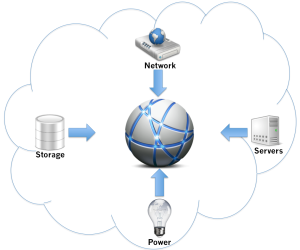 Converged infrastructure has become a hot topic in recent months, with industry leaders putting forward bold new claims about the future of IT.
This brave new world, however, is fraught with challenges to traditional IT—new trends dictate that networks and data centres neeed to thought about differently, the visionaries claim. To embrace this future, they say, CIOs need to think about converged infrastructure, and conform to newly formed standards while focusing on software and applications.
It was with this in mind that, alongside its annual CIO 50 Awards conference, CNME hosted a roundtable discussion, in partnership with HP, on how the Middle East can react to emerging challenges—and indeed how thinking about converged infrastructure can address those challenges.
The discussion was attended by more than 10 of the region's leading CIOs, and chaired by Hossam Darra, Chief Technologist, Cloud and Pre-Sales Director, Middle East, Mediterranean and Africa, HP, who kicked things off with his predictions for the future of IT.
"We can see a shift in trends and industries—IT consumers demand a lot. When I see new the generation coming up and the way in which they deal with tech, I can understand what's coming in 10 to 15 years, and a new style of IT will emerge," he said.
"I have a teenager—he's 16 years old—and I see him playing a game with his friend in Switzerland. He's consuming video conferencing bandwidth and consuming gaming bandwidth. Now, I still get the chills when I see video conferencing, but with the youth of today, it's a given. These kids are going to be your new IT operators and consumers, and they expect things to work seamlessly."
To address the challenges that the future will bring, then, Darra explained that HP has created a strong business unit that will focus on converged systems. The unit pursues simplicity, software-defined networking and data centres, and attempts to provide CIOs with systems that require less hands-on configuration, and that behave according to events and applications.
"The deployment of tech is going to be history; you're going to have software that manages your infrastructure. It will be much easier to manage your data centres," he said.
These claims certainly hit a chord with the CIOs in the room, though some weren't entirely sold straight away. Ahmed Yahya, CIO, Sheikh Khalifa Medical City, chimed in, asking what real business benefits could be gleaned from converged systems and software-defined data centres.
"With all respect to big vendors, you're selling technical solutions, not business solutions," he said.
Darra admitted that, yes, he had seen some implementations that focused too much on the technology—"It's a toy, a gadget," he joked. But he maintained that HP's new business unit did take into account business needs when discussing converged infrastructure with customers.
"We do workshops, we ask you to invite the business users. We define what's important to them, and then we sit with IT people. We say, 'This is what your users are looking for,'" he countered.
Naturally the conversation then went towards the issue of vendor lock-in. Sebastian T. Samuel, CIO, AW Rostamani Group, agreed that business requirements had to be taken into account, but ventured that it was the end-users who drive business requirements.
"When you talk about converged infrastructure, we need products that run across multiple platforms. Can your systems work across different technologies?" he asked Darra.
Darra was quick to point out that HP worked hard to avoid locking in its customers. As an example, the vendor started working on its cloud system in 2008, and the platform supports open standards such as OpenStack.
"Everyone participates in OpenStack—it's designed to provision easily. In the near future, you'll be able to add the networking as well. We've also designed maps for famous applications. In the SQL database, you download the map and it'll be provisioned automatically. We're trying to make your life easier," he said.
The conversation then deviated towards regulation, and what governments are doing to improve industry standards. Darra explained that HP was attempting to work on improving standards such as OpenStack and OpenFlow. He invited the CIOs to attend workshops or view HP's learning videos on YouTube to find out more. For those in the room, the advice seemed genuine—no doubt Dorra and his team will find themselves dishing out more advice on converged infrastructures in the months to come.