Bloggers are speculating that a 31 percent boost in speed for Apple's not-yet-announced A7 processor is related to still other speculation that Apple will introduce a 64-bit chip architecture in the next iPhone. But there's not much of a foundation for any of the conjecture.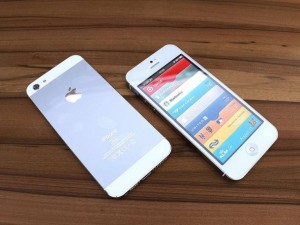 In fact, ARM Ltd's first 64-bit processor cores for the mobile market are not expected to appear in very high-end smartphones and tablets until sometime in 2014. Shifting from a 32-bit to a 64-bit chip instruction set, by itself, yields only a relatively small performance boost, of 8 percent to 10 percent, according to James Bruce, lead mobile strategist, ARM, Ltd.
Most smartphones today run processors based on the ARM instruction set and ARM-designed processing cores, which are actually manufactured by various silicon foundries. As an architectural licensee, Apple no longer relies on ARM's cores: with the dual-core A6 system-on-chip (SOC) in the iPhone 5, Apple introduced its first custom-designed core, dubbed Swift. For some highly technical detective work on Swift, see the in-depth iPhone 5 review at AnandTech, which begins its analysis of Swift here.
Bruce did not comment on Apple's plans. He did say that ARM partners will be incorporating the first 64-bit ARM mobile processor, the Cortex-A53, into 2014 smartphones. "But they'll just be running 32-bit software," Bruce says. The A53 is intended as a follow-on to the 32-bit Cortex-A7, with improved efficiency, according to Bruce.
The new wave of 64-bit speculation began Sunday with a single tweet by Fox News anchor (sometimes incorrectly described by bloggers as a "reporter") Clayton Morris: "Sources are telling me the new iPhone's A7 chip is running at about 31% faster than A6. I'm hearing it's very fast."
Past generational shifts in the A series processors have led to a doubling in performance, according to Apple.
Morris didn't mention 64-bit. But Mark Gurman did in a 9to5Mac.com post suggesting that the faster speed noted by Morris may be due to the use of a 64-bit architecture.
In keeping with rumor convention, Gurman refers to the next iPhone as the iPhone "5S." It is widely expected to be announced Sept. 10.
"The iPhone 5's A6 chip is dual-core, and it seems like the iPhone 5S will also remain dual-core," he said. "However, there could be a major differentiator: 64-bit. We've independently heard claims that some of the iPhone 5S internal prototypes include 64-bit processors."
The following day, Morris tweeted that he, too, has heard the same thing. "I too have heard 64-bit from multiple sources. Just as @markgurman reported yesterday. Should be an interesting Sept. event."
Yet Gurman actually isn't certain – nor apparently are his sources – that the next iPhone will have a 64-bit processor, saying only that "it's been in testing."
Neither Morris' tweets nor Gurman's post actually connects what may be two separate and unrelated developments.
But that didn't stop bloggers from going much further in their own speculation, using phrases like "reportedly" and "is expected" to suggest much more concreteness than actually exists. VentureBeat's headline was "Apple reportedly debuting 64-bit A7 chips for upcoming iPhone 5S." That post by Dean Takahashi was based on Morris' tweet and Gurman's post: "The A7 processor is expected to operate on 64-bit code and will have two brains known as cores."
Gurman drew on some recent, but equally vague, 64-bit speculation by securities analyst Ming-Chi Kuo, who "said that it seems like a transition to 64-bit processors will likely occur in the near-future." Neither Kuo nor Gurman defined what "near future" means. Gurman: "If the move does not happen this year with the A7, expect it to happen with the A8, [Kuo] said."
Yet that's also essentially what ARM's Bruce says, talking about the industry evolution to 64-bit mobile chips in general.
"Over the next four years, people will move from 32- to 64-bit in the ARM ecosystem for mobile," Bruce says. "That will help increase addressable memory beyond 4 Gbytes and let OS vendors support one [OS] kernel with one set of tools….You won't see a sudden change."
"Just because your processor goes from 32- to 64-bits doesn't mean you get a big performance boost," he says. "Look at Google Chrome and Mozilla Firefox [browsers] on 64-bit OS X and Windows. They're both still 32-bit applications."
There's a lot of life still left in ARM's 32-bit technology. The Cortex-A9 design has powered Apple's iPhone 4S, Samsung's Galaxy S3 and many Android tablets. The recently unveiled follow-on A12, with up to four cores, is aimed at mid-range mobile devices emerging in late 2014 and 2015. It's 40 percent more power efficient than A9, and up to 30 percent faster, according to ARM. That means better performance and longer battery life in tablets and smartphones.
The much more power-hungry A15 is aimed at high-end mobile devices, and servers. Samsung's latest Exynos 5 SOCs in the Nexus 10 tablet and Galaxy S4 smartphone are based on the A15. Both the A12 and A15 can be paired with the physically smaller, less powerful, but hugely energy efficient A7, in what ARM calls a "big.LITTLE" configuration. The higher-end processor takes over compute-intensive jobs, but the lower-end chip saves power by handling less demanding tasks.
Not everyone is a fan of ARM's road map. "I have been bearish on ARM's Cortex A15, believing that it is too power hungry for the mainstream/performance smartphone lines that are so popular," writes Ashraf Eassa at SeekingAlpha. "While I suspect that ARM's intentions with the A15 was never to really power smartphones (or to do so via big.LITTLE), both big.LITTLE and A15 have proven problematic for these segments, as Samsung's Galaxy S IV (international edition) has shown."
Eassa argues that the S IV edition powered by Qualcomm's Snapdragon 600, which also uses the ARM instruction set with Qualcomm's custom Krait core, has "superior battery life and good performance characteristics."
As his comment suggests, Apple and other architectural licensees such as Qualcomm, Marvell and Nvidia, can innovate on their own. AnandTech's in-depth analysis of Swift concluded that Apple improved the core's memory performance, reduced data cache access latency, and possibly added a second floating point unit among other changes. The result is dramatic performance gains in some types of operations compared to the A9, apparently without a power penalty.
Apple undoubtedly is moving ahead with mobile 64-bit processor technology, so testing makes complete sense. But new processors take years to develop and the processor tests, if real, are not an indication of an imminent release, without more definite evidence.
Originally published on
Network World (US)
.
Click here to read the original story.
Reprinted with permission from
IDG.net
. Story copyright 2023 International Data Group. All rights reserved.