SAP recently announced a deal to become the chief technology provider for City Football Group, the quartet of soccer clubs owned by Abu Dhabi United Group. The partnership aims to build on the success of English club Manchester City, and bring enhanced footballing operations, fan experiences and business administration to CFG.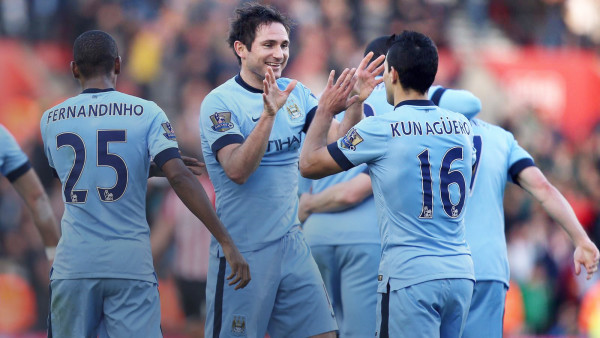 Since buying Manchester City Football Club in 2008, HH Sheikh Mansour bin Zayed Al Nahyan, Deputy Prime Minister of the UAE, has poured over $1 billion into the team and its off-pitch campaigns. The result? Two English Premier League title victories in 2012 and 2014, an FA Cup triumph in 2011, and a state-of-the-art training facility that sits next to the club's Etihad Stadium to boot.
Owned by Sheikh Mansour's private equity firm Abu Dhabi United Group, and with Khaldoon Al Mubarak as Chairman, the next big investment for City Football Group (CFG) – comprising Manchester City, New York City F.C, Melbourne City F.C and Yokohama F. Marinos – will be in technology, as CFG announced plans to use SAP as its cloud provider.
Back in 1863, when the Football Association was formed, the sport's approach to technology was practically non-existent. Enterprising coaches may have used a pencil and clipboard to assess player performance, fans would be crammed in in all-standing terraces, and the infamous 'magic sponge' would be used to treat anything from a seeping gash to a broken neck. Indeed, it seems apt that City goalkeeper Bert Trautmann famously finished the 1956 English FA Cup final in such a state.
Speaking at the club's 16.5-pitch Etihad Campus training complex, Ferran Soriano, CEO, City Football Group, said of the partnership, "For us, success means having all four of our teams winning by playing beautiful football. We need technology to manage this, as well as running our business and giving fans more opportunities to enjoy and understand the game. Fans want to get more insight into the way tactics are played out on the pitch. They want to know why their team is losing the ball too much, why they're missing goal scoring chances."
The former Barcelona F.C. Board member went on to add, "In the past, coaches have been reluctant to use technology, but now they are using data on performance and their opponents to good effect. We also believe we can do more with talent scouting and injury prevention to get value for money in a hugely inflated transfer market."
CFG is implementing a variety of cloud-based solutions powered by the HANA platform, including SuccessFactors, the Jam social software platform and the Simple Finance solution. A variety of solutions will also be leveraged to enhance the fan experience in CFG stadiums, including an interactive digital insights wall at the Etihad Stadium that will bring real-time analytics and insights to fans.
SAP will also co-innovate with CFG on new enhancements in talent management, football performance and human performance for future versions of its Sports One solution. The app provides coaches with a platform to manage their team's training sessions, and incorporates a calendar tool to oversee injury recovery programmes. A partnership with statistics firm Opta will also allow for video performance analysis across different key aspects of the game, including number of shots, dribbles and tackles within a game or training session context. In the last few years CFG has collected scout reports from 1600 Group club matches, and 900 opposition fixtures, and now wants to boost its analysis potential with the solutions.
Off the pitch, CFG will use SAP's analytics solutions, including Predictive Analytics software and BusinessObjects business intelligence solutions, which will analyse ticketing merchandising and other types of data.
Although the partnership is not exclusive to CFG, it is SAP's first of its kind with a Premier League club.
Franck Cohen, President, SAP EMEA, said, "The partnership with CFG is unique, as it is the only truly international football organisation with its four clubs, which complements our worldwide strategy. It's an incredibly exciting venture and a continuation of our fantastic relationship with the Abu Dhabi authorities."