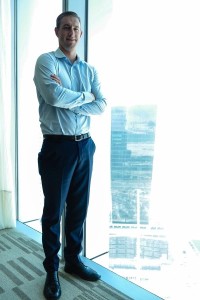 The Uber app, which provides high-end taxis to users' GPS locations, launched in Dubai this September. But in the face of growing legal concerns, will the impressive technology behind Uber's service be enough to secure regional success?
The birth of the Uber service hasn't been easy. Though the company was valued at $3.5 billion in July 2013 as it sought another round of funding, it has seen a disproportionate amount of controversy for a three-year-old company. This is because, while Uber claims to simply make an app that connects passengers with luxury car drivers, it has seen no end of run-ins with local law enforcement agencies, many of which have accused it of running an unlicensed taxi service.
It's easy to see where the confusion comes from — the Uber app essentially allows users to order high-end, licensed cabs, with the smartphone's GPS signal being sent to the driver. Payment for the journey is made via credit card to Uber, which then compensates the driver after taking a 20-percent cut of the fare.
It sounds an awful lot like a taxi service, but according to Ryan Graves, Head of Operations and Board Director, Uber, the company plays a much more subtle role in connecting customer and driver.
"We don't run a taxi service — we don't even run a limo company. We run a tech platform that partners with those guys, so you can think of us like Expedia," he says.
At the heart of Uber's business model is its app, which contains a number of algorithms that help to predict demand in different areas. As the company gains more and more data about the city in which it's operating, the algorithms help to better understand peak travel times, where people want to be picked up from, and where they're likely to want to go. This information is then passed onto the driver, who can make informed decisions about where his or her next customer is likely to come from.
"That gets pretty accurate — that's why ETAs are low, and that's why the experience is awesome," Graves says.
The Uber service launched in Dubai this September. It's the company's first foray into the Middle East, and within 48 hours of launch, Uber had already garnered plenty of new customers. The service works well in the more populous areas of the emirate — and being able to track an incoming car's real-time location on-screen will no doubt have technology fans swooning.
But should the company be gearing up for success, or a run-in with the UAE's Roads and Transport Authority (RTA), which regulates the country's taxi services?
According to Graves, there are no issues around licensing. Expanding on his comparison between Uber and flight-search site Expedia, he says, "The FAA regulates all of these airlines, and the RTA regulates all of these taxi and limo companies. We just provide value, we provide demand, which means revenue for those existing businesses that are all locally owned and locally operated. They run the businesses, and we just make them more productive."
Essentially, then, Uber simply outsources its driving services to existing taxi companies. In Dubai, it's the guys who own those expensive hotel taxis. And with many of them sometimes experiencing hours of downtime per day, Graves is convinced that partnering with Uber can make them more money.
So with the licensing issue apparently a moot point in the UAE, Graves and his team is focusing on business development. In a city like Dubai, where cheap cabs are easy enough to hail on any street, it needs to trumpet its main selling points — convenience and comfort. Uber wants to promise better response times than, say, the Dubai Taxi Corporation could provide. What's more, its fleets are made up of Lexuses, BMWs and Audis, so Uber adds an extra layer of luxury that should play well in this region.
Whether customers will go for it is another thing. The service needs to be tried and tested, but Graves claims that early responses are good. "I think the trajectory looks like it'll be very strong. The response, not only from riders but from the partners, has been very strong. They're loving how the technology works, and they're loving how the business fits into their existing model."
Should Uber's experiment in Dubai succeed, Graves wants to see the service be made available in other cities around the region. He points out that Uber takes things on a city-by-city basis — first it launched in San Francisco, then New York then Seattle. For Europe, the company took a similar track, taking on Paris first, then London and Amsterdam. If Dubai goes well, Graves highlights Abu Dhabi, Jeddah and Doha as prime targets for Uber in the region.
"You take on these really big cities, these huge opportunities, and then you go to smaller cities to see if it works. And if it does, it gives you a lot of confidence. We just try to understand how to do business in the region, and develop an expertise," he says.
Barring any run-ins with the RTA, Uber looks set to succeed in Dubai. The technology behind the service is sound, so Uber's job really does come down to making sure that it knows how to do business in this region.