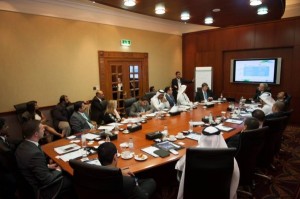 The Cognizant presentation, hosted by Stephen Fernandes, Regional Assistant Vice President, Cognizant and Steven Parry, MDM Practice Director, Cognizant, focused on ways IT professionals can work more efficiently and "run different and run better." Be it by leveraging existing technologies in a new way, efficiently staffing projects, or taking on new applications and systems, CIOs should always been exploring new ways to streamline their businesses.
The presentation also touched on the next master architecture of enterprise IT, the value of implementing new technologies to cut down on redundancy and overall costs, as well as ways to unbundle and transform tightly-coupled, industrial-age key processes. Overall, the main focus was how to take effective and efficient steps to transform enterprise IT.
An active roundtable with regional CIOs lead to a fruitful discussion on topics ranging from IT budget constraints to the meaning of innovation. Participants also discussed the role of the CIO and how IT departments need to compartmentalise their time between innovation of new ideas and maintaining necessary systems.
CIOs are often faced with the challenge of moving forward and implementing new strategies while maintaining their business' bottom line. The roundtable discussed how to explore new technology options when they are hamstrung by budget constraints. "The challenge is that when we take on new costs, we have to pass those costs on to our customers. When we do that, we risk our business," said Arun Tewary, Vice President, IT, Emirates Flight Catering.
The conversation then turned to at what point the costs of top-tier technology should be passed on to the customer, and when they should be absorbed by the enterprise. "For example," said Mahmoud Kamal, CIO, Al Habtoor Group, "Our guests expect to have wireless high speed internet for free. But that is a cost that we have to take on. However, if they don't have it, they feel like their quality of stay is not as good as other establishments."
Beyond the budget, CIOs and IT teams are often pressed for time when it comes to implementing new technology. With so many moving parts, many CIOs find that they must dedicate much of their time to maintaining existing systems and supporting IT operations with little time left to dedicate to exploring new technology. Though technology innovation can decidedly be a potential differentiator, most IT departments struggle to find the time and resources to make it happen. Dr. Oualid Ali, Head of MIS Department, Sharjah University put forth that IT should be looked at as an investment, not a cost. "We have to look at IT in terms of a return on investment," said Ali, "IT needs to always be exploring new innovations to facilitate the bringing of new revenue through other departments to the organisations. Budget, time and other resource constraints, the participants agreed, are the major limitations when it comes to the number of innovations in technology an IT department can produce and implement.
The discussion then turned to the role of the CIO, both as the technology lead of an enterprise and as a facilitator for new, innovative ideas throughout a business. "I think the key thing when you are looking at innovation," says Terence Sathyanarayan, Corporate Director of IT, Drake & Skull International PJSC, "I think selling internally and getting everyone in the business to think about innovation is key to driving progress in a business." The roundtable participants agreed that everyone in a business, whether they be in the IT department or not, is responsible for thinking of new and innovative ways to cut costs and maximise revenues.
On the topic of the future shape of IT departments, the idea of the emerging role of the Chief Data Officer was discussed. The roundtable concluded that such a role would just be an extension of the Chief Information Officer, and that the two positions would work collaboratively to mine and manipulate data to support smart business decisions. "CIOs or CDOs, whatever we are called isn't as important as the role we play," said Michael Bowen, IT Infrastructure and Operations Manager, Averda. In short, the roles, if they are indeed different, should create a team.
A lively discussion, the participants of the roundtable went on to discuss the meaning of innovation and the impact and meaning of trends such as 'Big Data' and 'cloud' as well as the role of the CIO in relation to the CEO in driving business. "The relationship between the CIO and the CEO," said Amin Al Zarouini, Head of ICT, Bee'ah "should be a partnership, with both roles working to better the business."