Last October, the Dubai Government revealed its plans to shift all transactions to Blockchain and become completely paperless by 2020. If recent announcements are anything to go by, that target its well on the way to being achieved.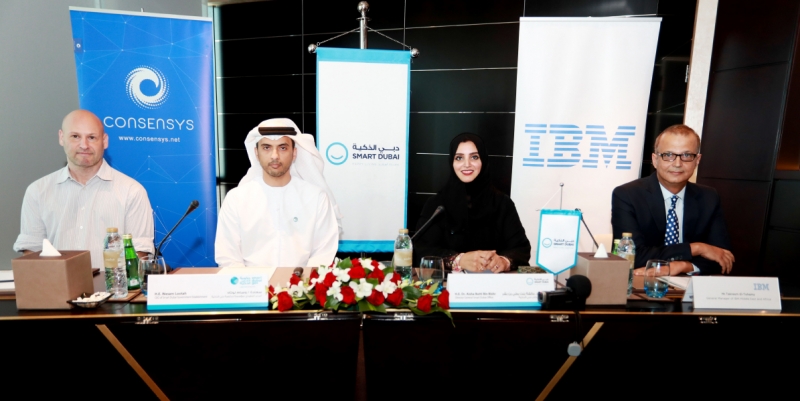 The Smart Dubai Office has announced the roll out of the first city-wide effort to implement Blockchain technology in city services in collaboration with IBM and ConsenSys.
This effort represents a key step in the execution of Dubai Blockchain Strategy 2020, announced in October by the Dubai Future Foundation and the Smart Dubai Office, and is the first of its kind in the world.
"The announcement marks an important step forward in our commitment to delivering Dubai's Blockchain Strategy announced late last year by His Highness Sheikh Hamdan Bin Mohammad Al Maktoum, Crown Prince of Dubai," said H.E Dr. Aisha Bin Bishr, director general, Smart Dubai Office. "Collaborating with IBM as lead strategic partner, and ConsenSys as city advisor, will help expedite this process, attaining Smart Dubai's overall vision of making every-day experiences more safe, seamless, efficient and impactful for all residents and visitors of the city."
Over the coming months, Smart Dubai will conduct workshops with key government, semi-government and private organisations in Dubai to identify and prioritise the services that can be most enhanced by the application of blockchain technology. Moreover, a shared blockchain-as-a-Service (BaaS) platform will be built for Dubai Government entities to use for implementing their blockchain pilots and projects.
"We truly believe that we cannot do this alone, and we need to work closely with partners in both the public and private sector to deliver on this promise to make Dubai fully powered by blockchain," said HE Wesam Lootah, CEO of Smart Dubai Government Establishment. "This collaborative effort is crucial to ensuring that the city as a whole is moving in the same direction, taking advantage of synergies, and avoiding duplication of efforts and costs."
The strategy aims to improve the efficiency of government processes and encourage paperless transactions, cutting almost 100 million paper transactions annually. This huge reduction in paper consumption will reportedly reduce 25 million work hours required annually in handling paper documents, which in turn will boost productivity of employees and leave a positive impact on the national economy.
"Dubai is at the forefront of adopting this transformative technology, and our collaboration demonstrates the government's confidence that blockchain solutions will transform government service delivery," said Takreem El-Tohamy, general manager, IBM Middle East and Africa. "IBM believes that blockchain will do for transactions what the Internet did for information."
In a later announcement, Smart Dubai also unveiled its development roadmap for artificial intelligence in Dubai and launched the first cognitive AI Lab in partnership with IBM. The Lab will provide skills training for government and private sector employees and local students, host workshops for entities and individuals to experiment and build prototypes and provide go-to-market support for new services.
This latest announcement follows the release of 'Saad' in October – the city's first government service utilising AI and powered by IBM Watson.
Speaking at the workshop in partnership with IBM, Dr. Bin Bishr explained the reasoning behind announcing the two initiatives in such close succession of each other.
"Both blockchain and AI are the main tools for the fourth industrial revolution. They are two different tools, each one with a different functionality, but the announcements have been so close together to show that the two tools are aligned for the benefit of Dubai. Our two main goals behind both announcements is to enhance the happiness of people in Dubai, and bring the future to today."