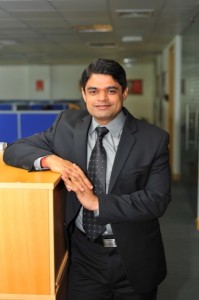 With the much-delayed amalgamation of Indian systems integrators Tech Mahindra and Satyam Mahindra finally formalised, the merged entity has now set its sights on becoming a $5 billion company by 2015. To reach that goal, the head of its MEA and Turkey business is looking to double Middle East revenue.
When Ramalinga Raju, the former Chairman of Satyam Computer Services, revealed in January 2009 that he had manipulated his company's accounts by $1.47 billion, it shocked the business world. It was the biggest corporate fraud in India's history.
Had you predicted that the company would go on to be part of a $5 billion company by 2015, you would have been branded as crazy as Mr Raju himself.
But such is business. Three months after the revelation, Satyam was acquired by Tech Mahindra, another systems integrator of similar size to Satyam.
It wasn't to be quite as easy as that, however. Tax and legal issues led to much toing and froing in the India courts, before the merger was finally approved and announced by the board of the companies in March 2012. It would then be another 14 months before the two companies were legally merged.
Both companies now have cause for cheer. The merged entity forges quite a formidable force in technology services, with revenue of $2.7 billion and a team of 84,000 professionals across 46 countries.
What's more, the company has now set its sights on a target of achieving revenue of $5 billion by 2015.
Over in the Middle East, Africa and Turkey, G.B. Kumar has been tasked with helping this region play a part in that target. To date, ongoing projects in the region are worth in excess of $150 million, which Kumar aims to double in the next two years.
"I think it's an exciting goal," Kumar says. "In a nutshell, the objective for the Middle East is to double our revenues in the next two years from where we are now.
"Right now, we collectively support close to 1,000 engineers in terms of actual projects, between onsite and offshore for the Middle East, and the typical way we work is 60 percent offshore and 40 percent onsite in this region."
To achieve that growth, Kumar is looking at the inorganic and transformational initiatives which will allow the company to move faster than the market.
Among the keys to that is the market Tech Mahindra is targeting.
"On the enterprise side, we have typically played in deals which are less than $5 million in terms of size," he says. "The way I see it, there is an invisible glass ceiling."
Last year, Kumar and his team scored some big managed services wins with Majid Al Futtaim Properties, Mubadala and Aspire, which did allow Mahindra to break through that ceiling.
He believes deals like these are integral to achieving the ambitious targets, and speaks of his "frustration" with Mahindra's position in the market.
"My frustration has been that we play in less than $10 million ticket size deals, but 90 percent of the share of the wallet in this region go into greater than $10 million deals, so I'm not even present.
"I'm trying to play in 10 percent of the market and trying to gain market share. First of all, I need to break through that part of the barrier. Then the playing field is much bigger than where we are sitting today. I think that time is now."
However, with the amalgamation finally formalised, Kumar believes Mahindra can now target a much bigger market.
"The advantage I have with the merger of the two companies," he says, "is there is no stigma attached to the name anymore. The size of the company justifies customers to invite us to the bigger parties."
On top of this, Kumar is keen to expand Mahindra into the large markets of Turkey and Saudi through a number of partnerships, joint ventures and acquisitions.
Match made in heaven
But new geographies and larger project sizes are not the only areas where Tech Mahindra is looking to expand. Indeed, the acquisition of Satyam was motivated by the very different markets each company played in.
Whilst Tech Mahindra made its name as a successful telecom services company, seeing growth through big customers like BT (British Telecom) and AT&T, Satyam excelled in the enterprise space.
"There was an opportunity for Tech Mahindra to really proliferate to the enterprise side, which was not its core competency," Kumar says. "That is where the Satyam acquisition came into play; Tech Mahindra comes from the telecom depth of experience, and Satyam has always been known for its expertise from the enterprise perspective."
With that in mind, Kumar sees the amalgamation as a "beautiful complement of skill sets" in terms of creating a holistic organisation which can offer solutions to customers no matter their vertical.
He adds that a further benefit which was not before realised is the evolution of the cloud, and other rising trends.
"Three years ago, we were not thinking that cloud, bring your own device, and mobility technologies would become so big," he says. "So the merger has actually given rise to a very unique differentiator with customers when they're talking these new technologies.
"That is the unique intersection synergy that we have seen, which is really helping us in terms of driving the business to the next level."
And whilst legal issues got in the way of the acquisition running smoothly, Kumar says that internally the merger was much easier because of the differing skill sets.
"Typically, a merger tends to be very painful between two large organisations when there is so much overlap that it's chaos," he says. "But here, whilst there were some overlaps relating to some administrative issues — like why would you have three admins supporting one region — when it came to technology competencies, it was very clear that they could leverage off each other."
The transition was helped, he adds, by the largely contrasting cultures and work philosophies of the companies.
"The culture of Tech Mahindra was aggressive and results orientated with constructive confrontation," he says. "The Satyam culture was very technically orientated, polite and relationship-focused in the way they approached customers and built the business.
"In my opinion, the way these two cultures complemented each other was unprecedented."
And keen to put a positive spin on the merger delays faced by the courts, Kumar refers to this as a "blessing in disguise".
"Those years actually gave us a very good runway for the organisations to work out of the same office and understand each other from a cultural perspective," he says. "So when the whole thing was officialised in July, nothing really changed.
"Tech Mahindra folks are sitting here, Satyam folks are sitting here — it's the same office, and I was leading the entire region as a merged entity whilst the court cases were still going on.
"So from a work and business-as-usual perspective, the integration had already taken place. For us, the official amalgamation was more of an event that happened and didn't have any material implementation."
So the stage is set, and this time the spotlight is bright for a different reason. Not global shock or embarrassment, but excitement amongst a rapidly growing company.