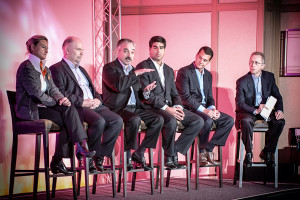 First-movers in LTE are likely to gain larger chunks of the telecoms market, Alcatel-Lucent told visitors to its annual Technology Symposium in New Jersey, United States. But what can the Middle East do with this information? 
There's no doubting that long-term evolution (LTE) mobile broadband is growing at phenomenal rates across the globe. In markets such as Korea, around 45 percent of mobile subscribers are subscribed to LTE packages. In the US, the country's biggest carrier, Verizon, has about 30 percent of its customer base subscribed to LTE services.
In the Middle East, however, it's a different story. According to a report from Informa Telecoms and Media earlier this year, there were just 50,000 LTE subscribers across the entire MENA region. This is despite operators such as Etisalat, du, STC and Mobily all investing millions into developing next-generation LTE networks.
This is surprising, though, because what's seen in the Middle Eastern telecoms market flies directly in the face of one of the key themes at this year's Technology Symposium, an annual conference held by Alcatel-Lucent in New Jersey, United States.
At the conference, Alcatel-Lucent's executives were at pains to get across that early adopters of LTE were almost certain to capture increasing amounts of market share. Operators that invested in the technology early, it was said, would reel in customers simply because of the higher levels of customer experience that the technology can afford.
"The rankings of the operators now have been formed over the past two years and it's down to the deployment of LTE," said Glenn Booth, Vice President and General Manager, LTE Business Unit, Alcatel-Lucent, when describing the state of the US market.
"Operators have a very brief window of opportunity to meaningfully take a lead. Verizon will get many billions more dollars over a five-year period for being the first to market [in the US], compared to number two. And number two will get about 25 percent more revenue than number three."
Apply this logic to the Middle East, and what Booth said seemed to make sense. Yes, LTE subscription numbers are low across the Middle East (though it must be admitted that they're probably much higher since Informa's report was released in May), but customers are beginning to shift towards operators that offer what they perceive to be better wireless broadband services.
In the UAE, Etisalat was the first to commercially deploy LTE, which it launched towards the end of 2011. Since then, it has regained some of the market share it lost when competitor du launched in 2007. According to du's third-quarter earnings report this year, its market share was 46.4 percent as of October 31, down from 47.2 percent a year earlier.
There's no telling whether the shift is down to LTE adoption, but according to Dave Geary, President of Wireless, Alcatel-Lucent, LTE has in other markets been a catalyst for success.
"I think the projection is about 130 million LTE subscribers by the end of this year, but it got to 100 million in a little over two years. WCA, by comparison, was 7 million, and GSM was 8 million. And it's going to skyrocket once China gets into business next year. The adoption rates, and usage, have surpassed the operators' expectations by a lot," he told CNME at the symposium.
In this region, early-adopter operators have tackled LTE in different ways, while others have been waiting to learn from the frontrunners' experience. What's more, in countries such as Oman, Bahrain, Qatar and Kuwait, the operators have simply been waiting to maximise the potential of their 3G WCDMA services before making the move to LTE.
Now that almost a dozen operators in the Middle East do now offer LTE services, though, things are changing. Operators and end-customers will soon begin to see the advantages of LTE as the market matures, according to Booth.
"It's putting your investment into an asset that's got headroom and is forward-looking. You're able to build out a large amount of capacity off OPEX, and add capacity through software. Also, customers care. It's noticeable," he said.
While some regional operators have already built up formidable LTE networks, others have only begun taking baby steps. Alcatel-Lucent can already count Etisalat and Mobily as customers, though it is also targeting what it calls "fast followers"―the operators interested in deploying LTE in order to keep up with the early adopters.
"We think it's being proven time and again that the first mover can take share and reap the benefits of making an investment. We've seen some examples of fast followers who compete that way. We think it's the way to go," said Geary.
To do this, Alcatel-Lucent is advising its customers to build out LTE networks in an overlay fashion―meaning that the networks are built separately from the existing 2G and 3G networks. This might sound like needless investment in new kit, but the vendor believes that the longevity of the new kit will provide a much larger return on investment than attempting to built an LTE network over an existing 2G or 3G one.
Alcatel-Lucent needs its predictions to come true. The financially stressed company this year unveiled a plan to shed $1 billion in assets and to become profitable by 2015. The plan, named "Shift", will see the vendor morph from a general supplier of telecom equipment into what it calls an "industrial specialist". Its ambitions in the LTE and―further down the line―5G markets play a large role in the success of this plan.
With LTE becoming more ubiquitous across the region, however, it would be fair to assume that Alcatel-Lucent may very well be counting more Middle East operators as customers as time goes on. Certainly, the company is making strong inroads around the rest of world―at the Technology Symposium, the vendor announced a number of big customer wins, including Sprint in the US, Telefonica in Spain, and China Mobile, all of which were looking to deploy LTE networks using Alcatel-Lucent technology. If such enthusiasm can be replicated here, it spells good news for the vendor and its customers.