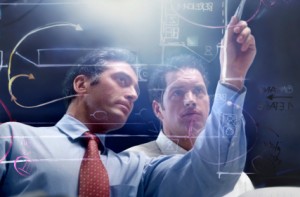 There's no question domestic outsourcing is more expensive than sending IT services abroad. The 215 enterprise buyers surveyed in the September 2012 report expect to save about 16 percent when sourcing work stateside versus around 22 percent when sending work to India.
But the cost effectiveness was just one of the most important criteria when deciding where to outsource IT services; workforce skills and experience, availability of qualified workers, and English-speaking capabilities were also major factors, according to the survey.
The corporate leaders also said they would consider outsourcing domestically if the costs savings were at least 15 percent while they would consider off-shoring to India only for savings of at least 30 percent.
"That's a key finding. Those are big differentials," says HfS Research founder Phil Fersht. "If you go to a service provider, they should be able to give you two options–local or international sourcing."
The contrast between in capabilities between India and U.S.-based outsourcing was stark in several areas. While 78 percent of respondents said domestic outsourcing arrangements offered good cultural understanding and communication skills, just 30 percent said Indian deals did.
Likewise 72 percent gave the U.S. good marks for business understanding and taking initiative, while 37 and 38 percent gave the same responses for India. And 71 percent said U.S.-based outsourcing deals were innovative, while 41 percent said Indian deals were.
Respondents reported a more favourable playing field in terms of work ethic–77 percent gave the U.S. high marks for being hard wording while 71 percent said the same for India. And it was nearly a dead heat in process adherence, an attribute often associated with Indian IT firms; 72 percent said Indian outsourcing engagements were process-driven while 71 percent said their U.S. counterparts were.
IT Service Providers Reluctant to Go Domestic
The problem is that many providers can't or won't offer viable domestic outsourcing options–at least not at the scale that they currently do in India or other overseas locations.
"The service providers haven't invested an awful lot in building up those local resources because they've been going offshore," says Fersht. "Buyers may not want to move more work offshore, but they don't have a lot of choice from the industry today."
Traditional U.S.-based providers may have an advantage; while they have invested heavily offshore, they have retained onshore personnel. "Some of them are sensing an opportunity to win back work from Indian providers," says Fersht. Many Indian providers, on the other hand, are reluctant to build up a robust presence in the local markets they serve.
Their U.S.-based operations have largely been driven by specific client engagements. "They're not internationalising enough. They still want to run everything out of India," says Fersht. "And when they are running projects locally, they still want their Indian staff to run them."
In part, it is a "control issue" for some Indian providers, says Fersht. In addition, hiring American workers is a more expensive proposition. "What U.S. enterprises should be telling Indian vendors is, 'We want you to train us to manage you,'" says Fersht. "But that's deemed too expensive and too time consuming [by the provider]."
Fersht decided to compare the attitudes toward and experiences with U.S.-based and offshore outsourcing because onshore outsourcing had become the biggest topic of interest among his clients in recent years. "This survey is come ten years or so on into the offshore outsourcing phenomenon," says Fersht. "Customers are saying we might have save 30 percent in costs but we also might have lost 30 percent in terms of the ability of our IT staff to understand the business."
The Politics of Outsourcing
That offshore outsourcing has been a political hot potato in this presidential election year may have had some role in the responses, says Fersht. "Some of this may be related to political movement," he says. "Companies are aware that it looks bad to be seen to move jobs offshore."
But while IT leaders may show an increased interest in sourcing work closer to home, it's unlikely that offshore outsourcing will necessarily decrease or that enterprise IT will bring everything back in-house.
"The most mature buyers have invested years building new capabilities at managing offshore resource [and] turning the clock back means greater risk that managing their current situation," says Fersht. "Most large companies cannot operate their own systems now. They are still mixed and complex and they need help."
Fersht predicts that much of the lower-level work that has been off-shored in recent years-help desk support, testing, systems maintenance-will remain abroad. But the higher-level work that offshore providers have said they wanted to assume-software development closely aligned to the business, for example-is more likely to be sourced domestically, whether to third parties or in-house.
"We're at a bifurcation point in the outsourcing industry, and the future is cloudy," says Fersht. "Can companies keep up the relentless charge of off-shoring? Will Indian providers truly invest in domestic facilities? What effect will the outcome of the election have on outsourcing? I don't think we can answer those questions."
What is clear is it that IT leaders are beginning to think about sourcing differently, says Fersht. "From 2002 to 2008, it was all about getting as much to India as possible," he says. "But we have smarter CIOs coming out of the recession who realise this is a long game. It's not all about offshore outsourcing. It's about building smarter global sourcing strategies."