In a bid to enhance efficiency, reduce costs and eventually become a predominantly paperless organisation, LifePharma's head of IT Shailesh Mani opted to roll out a fresh ERP solution across the company's Jebel Ali manufacturing facility.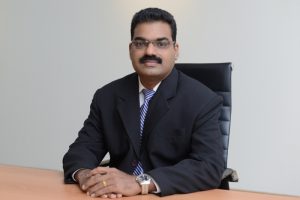 LIFEPharma has come a long way since its conception in 2011. Keeping track of the millions of products in its revamped Jebel Ali Free Zone manufacturing facility is no small task, but one that holds extreme importance in the pharmaceutical industry. Batch numbers are the golden ticket in monitoring the lifecycle of these products; they are monitored throughout the process and can be used to track any discrepancies with the product all the way back to the manufacturer.
At LIFEPharma, this journey was previously monitored through a range of manual log-books and paper-intensive bundles of documentation. Not only was this very time consuming to process and analyse, but it also created costly expenditures for the company in paper usage. In order to create a more efficient system and reduce the margin for error, the IT department – headed by Shailesh Mani, opted to implement SAP's ERP solution across the facility.
"When I joined LIFEPharma in 2015, the ERP implementation was half-done. It wasn't live, so hours of time were still being wasted on a daily basis by each department through carrying out numerous manual processes," he says.
The implementation has allowed LIFEPharma to successfully establish an electronic batch manufacturing reports system (EBMR) – crowning it "the only company in the pharmaceutical industry in the Middle East to have managed this," according to Mani.
"This has created numerous benefits for us," he says. "We have seen a huge amount of paper savings, as previously these reports would have been sent to our product development lab team for approval in the form of a 100-page document. Now, the reports are sent through mailers and then reviewed and authenticated electronically."
Logistical issues of physically taking these documents between departments for approvals also caused delays in the manufacturing process. In addition, this new electronic process means that the authenticity of signatures cannot be altered, as it is digitally logged with the time and date as per the system.
Filing a change control document to the quality assurance department was previously a laborious task. "If any changes to a process need to be made, whether it be changing software or moderations in a product, a change control document had to be filled out," explains Mani. "This document previously needed various approvals and comments from QA and the consent department before it could be implemented, which could have taken weeks to finalise."
Following the ERP implementation, the change control documents are now uploaded onto the system and turned around in two business days. "This drastic reduction in approval time has been a massive benefit in ensuring we can maximise our resource time," says Mani.
Hygiene, and the avoidance of any cross-contamination in any medical environment is of the upmost importance. In order for a pharmaceutical firm to align with goods manufacturing practices (GMP), a number of tests need to be completed at various points in the day with results recorded, including temperature and humidity levels inside the production lab, as well as monitoring area and equipment cleaning. These tests were previously recorded manually in log-books.
"We have now removed the log books completely from the production process, which has saved us approximately 2,000 log books per year; all of which were a minimum of 50 pages each," says Mani. "The system now notifies the team to regularly check the maintenance of machines so that we never fall behind. With everything digitised, this reinforces auditors to see that we're remaining GMP compliant."
LIFEPharma's digital journey is just beginning, however. There are still a total of 120 standard operating procedures (SOPs) for the production department alone, which must first be learned by 80 percent of staff before they can be approved by quality assurance and become effective procedures.
Training 80 percent of the facility's 200 staff members in these processes was not the most pressing issue, says Mani. "Previously, we had to go through all of the SOP records to see who was trained in which process before we could send it for approval," he says. "Now, the document management system is completely optimised on the SAP software. Once the procedure has been passed by staff and approved by QA, the system notifies remaining staff members who are still yet to pass the assessment."
In the production area alone, the major cost saving is clear to see. "We've saved 10,000 sheets of paper per month by getting rid of log-books and automating various processes, which has resulted in significant reductions in cost outgoings," says Mani. "We've also effectively utilised our resource time, and no longer spend unnecessary time maintaining and preparing our log-books for auditors."
Looking ahead, Mani maintains that while approximately half of the QA processes are now paperless, the primary aim is to incorporate quality control (QC) automation into the ERP system. "We currently produce manual analytical data sheets as part of our QC procedure, and this is definitely something we're looking to integrate onto the system, along with other processes, before the end of the year," he says. LIFEPharma has already gained the approval of health authorities from the EU GMP, UAE GMP and the GCC GMP – among others – to trade in their markets, and Mani has high hopes that they will have achieved USFDA (United States Food and Drug Administration) compliance by the end of 2017 to expand the firm's global reach.