'Digital' is no mere buzzword for Anshul Srivastav. The Union Insurance CIO has developed a comprehensive roadmap to ensure the organisation thrives against the tide of new business models and technologies.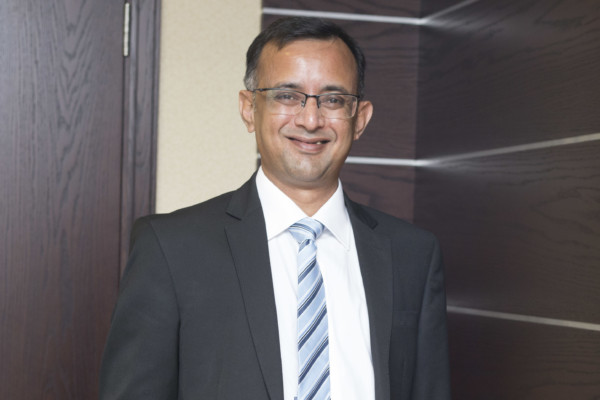 Business isn't the only thing being disrupted by digitalisation. Just ask Anshul Srivastav. "Digital has become my way of life," he says. "I consider myself to be a practitioner of digital, disruption and innovation."
His neat acronym summarises his definition of digital strategy. "Disruptive In Globally Inclusive Transformational (and Transitional) Analytical Leadership," Srivastav says. "It defines exactly what digital means to me and how digital is pervasive across my thought process."
While Srivastav is clearly motivated by the prospect of taking Union Insurance to a different level of operation, he is increasingly aware that a failure to do so will put the company's future in serious jeopardy. He is unequivocal in his belief that various physical objects that underpin our society will be destined for extinction in the near future, and will be superseded by digital products and services. "I think cash will disappear in the next five years," he says. "If the banking industry is pushing applications to users, and apps are taking care of transactions, where is cash needed? In the next 10-15 years, I also expect the death of credit cards. Wallets will cannibalise ATMs. That will be a huge cost-saver for banks, while mobile wallets will take away huge amounts of their operations."
The disruption that banking faces will sweep across the financial services industry, causing an unavoidable impact for the insurance business, he adds. "There are so many examples of disruptive technologies changing operating models. Driverless cars, telematics taking care of commercial insurance, mobile payments. The New York Stock Exchange and Nasdaq are running pilots on Bitcoin and Blockchain. And you can't ignore healthcare, which is going through a massive digital transformation, with wearables playing a huge role."
These wearables stand to have a major impact on insurance. The collection of user health data has the potential to transform the way that insurance packages are put together, with the prospect of customer health improving as a result of new streams of information. "Wearable data will be transmitted to insurers, and they will use that to rate premiums and have a constant check on individuals and organisations for health and life insurance," Srivastav says. "Wearables will be – and already are – a part of daily lifestyles. This data can be mapped to motor and life insurance. Customers will be able to track what is going on in their body on a real-time basis. Someone has to front-end that, whether it's the healthcare or insurance industry."
Srivastav also believes that health-conscious customers will be enticed by cheaper policies if they can share their data on a more frequent basis. "Customers who want to buy life or health insurance have to share certain pieces of information, and using this data, we will be able to advise them to take certain medication or adopting lifestyle changes," he says. "The continuous monitoring of medical conditions is something that I believe people will subscribe to. Local hospitals and pharmacies will be mapped, and you will be supported on a self-service basis. Grievances and claims can be settled using this data."
The use of such measures would be particularly apt in the treatment of diabetes, Srivastav says. Instead of bi-annual medical tests, real-time monitoring of sugar levels could allow insurance companies to adjust their premiums accordingly. Srivastav believes that this could lead to a drastic shift in payment models. "Monthly payments are currently the shortest on offer, but that could go down to daily or weekly payments," he says.
Pushing disruption
As with any IT decision-maker, Srivastav's time is largely spent on shaping technology strategy around the business's needs, a portion of that being dedicated to simplifying IT operations. "Around 20 percent of my time is spent on that side of things, but I am working on initiatives that can reduce that number by at least 10 percent over the next year," he says.
The remainder of Srivastav's time consists of "connecting dots" across the enterprise, meanwhile. "I have to work with the business and business partners on new initiatives, and gaining backing for them," he says. "These typically revolve around driving customer engagement, process efficiency or evolving into new market areas. It's about going shoulder to shoulder with the business to find ways for technology to improve how Union be run."
Over the last six months, Union has transitioned to a private cloud model under Srivastav's direction, representing huge progress in terms of the efficiency it has delivered. Srivastav estimates he has saved almost "40 percent" of his team's time spent on Union's IT operations through its deployment. "On a day-to-day basis, the move to cloud has alleviated the concern of managing operations," he says. "The management of our own data centre, servers and networks is taken care of by cloud."
The move to the cloud has formed a key part of Srivastav's long-term plan. "It was driven by digital thinking," he says. "If you are not pushing disruption, you will keep working on operations, and not giving enough attention to new ways of doing things."
Analytics
At the core of Srivastav's digital strategy is analytics. He appreciates that in order for it to introduce disruptive means of doing business, Union will be forced to gain unprecedented insight into the data at its disposal. "Without analytics, no digital strategy can get moving," he says. "You need to analyse structured, non-structured and semi-structured data sets to continuously evolve, make, predict and prescribe decisions. Anything I want to attempt in the digital space is meaningless without analytics. It's the thing that will help organisations move ahead. You need data to support initiatives."
Cultural change 
The 'transitional' element of Srivastav's thinking, meanwhile, applies heavily to Union's uptake of BYOD strategies, he says. "The policies have been approved," he says. "We are starting by working on things internally, then we will extend them to the outside world. We want to be a device-less organisation, and that will free up more time as well. We need to initiate new transformations that will support cultural change. BYOD a cultural change. People are not used to a BYOD setup."
Looking at the bigger picture, he believes mobility will open doors for a series of new opportunities for Union. "Mobility will be a line of business in itself. It will have its own set of revenues and its own balance sheet. It will take away lots of operations from our back end, and will be a question of self-service."
Security concerns are also chief among Srivastav's priorities. "Around 20-25 percent of what I spend will go towards digital security, to make sure information is protected and systems are compliant," he says. The layers of protection delivered by Union will be to an IT and business environment that will see significant changes. "The way we will operate will be drastically different in three or four years' time," he says. "If we don't push ourselves, auxiliary industries will push us to change."