Shopper expectations in the UAE capital are evolving from being product-based to experience-based, according to the CEO of UAE's largest mobility retailer, axiom telecom.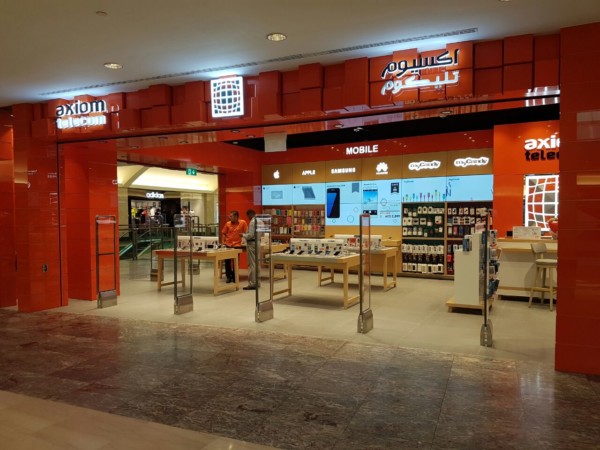 "Abu Dhabi shoppers are largely comprised of young Millennials who are looking for a non-traditional retail experience, one characterised by the ability to experience products before making a purchase," says Fahad Al Bannai. "Today's customers are tech-savvy and know exactly what they are looking for in a product. Not only do they have specific requirements – they are searching for ways to make the most of their product and maximise their return on investment. This consumer thirst for experiential shopping is what inspired the creation of our new store concept, which we are introducing for the first time in Abu Dhabi."
The launch of axiom's innovative shopping concept in Abu Dhabi Mall marks the retailer's third store renovation in the UAE after Dubai Festival City and The Dubai Mall. It is also the sixth axiom revamp in the region, with three recent store launches in Saudi Arabia.
Dubai Festival City's ongoing transformation has made it a preferred shopping destination, with a new 2,500-seat indoor food court, and a beautiful waterfront promenade that overlooks Dubai's expansive skyline and is progressively offering a host of exciting outdoor dining and entertainment options – all just moments away from the axiom store.
The region's tech lovers have been widely receptive to axiom's unique approach to retail, with an average footfall increase of 30 per cent at each of its new stores. Among the many exciting new services shoppers will discover at axiom is 'X-Customs', a first-of-its-kind in-store customisation zone that allows customers to personalise their most prized possession – their smartphone.
From gold plating, engraving, and colorful skins, to UV printing, clear protection, and Swarovski crystals, XCustoms allows gadget owners to express their individuality – whether it is supporting a favourite band or team, or showcasing a unique sense of style. Nearly all services are completed in-store, allowing customers to make a statement with their personalised device in as little as 15 minutes.
Techies looking to take their mobile experience to the next level can choose from a host of accessories, including products from industry leaders Beats, Fitbit, Jawbone, JBL, Monster, Merlin, and Sandisk. From the latest in wearables to cutting edge connected devices, such as Virtual Reality headsets, 360-degree cameras, and truly wireless Bluetooth headphones, axiom provides a compelling selection of the latest that mobile technology has to offer.
What's more, live demo stations make it possible for customers to experience some of these exciting technologies and accessories before making a purchase. This includes the largest selection of smartphone cases, allowing shoppers to choose from a wide assortment of protective covers that cater to every taste – be it contemporary, chic, or classic. And with animated LED screens running across the store walls, customers will always feel fully engaged.
Meanwhile, the new du service desk at axiom allows customers to immediately activate their phone through a host of attractive packages.
Customers can also benefit from axiom's signature value-added services, which include Extended Warranty, Damage Protection, Priority Repair, Pick-up and Delivery for Phone Repairs, and Trade-in offers, ensuring uninterrupted connectivity.