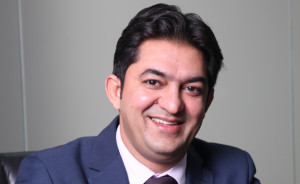 Muhammed Faisal, Chief Financial Officer, Al Mostajed Technologies Group, is not a man that is afraid to voice his opinion. During his time at the company, he has taken on a number of projects in partnership with the IT department that have supported Al Mostajed both internally and with its many clients.
Faisal has more than 18 years of experience in finance. "I was living and working in Pakistan," he says, "and in 2003 I made the move to the Middle East." He did his time as an auditor for a few years, auditing various companies and serving as a financial controller for a company in Qatar before making his permanent home in Dubai.
Since joining Al Mostajed in 2012 he's been busy – a testament to his assertion that the role of the CFO has fast been moving beyond the confines of the finance department. "Since coming on," he says, "I have been involved in projects involving business processes, controls and more."
The role of the CFO, says Faisal, has changed significantly over the past decade. "We aren't just dealing with accounting anymore," he explains, "I work as a risk manager, I have to analyse performance, as well as day-to-day requirements and more." Indeed, Faisal is sure that all over the world, the CFO has become one of the key management positions to any operation.
"If I go, say, 15 years back in my career, I can see that the role of a financial officer has very much changed," says Faisal. This is true particularly in regard to the influence that technology has in the finance department. "At that time, we were just using Excel sheets to analyse our finances," he recalls, "now a spreadsheet like that can only provide a small picture of the data we need to analyse our business. It's a basic thing, and we have all moved forward."
In this new world of technology, finance officers have to be equipped with the proper tools, says Faisal. From business analytics software, to powerful accounting tools, the finance department simply could not keep up with today's pace of business if it weren't for solid IT infrastructure. "Microsoft, Oracle and more, we all rely on their technology these days," says Faisal. It is important, he says, to stay abreast of the latest technologies to keep business moving forward.
It is not only technology, however, that Faisal says is paramount to acting as a top-notch CIO. "I was lucky that early on I was involved in developing things like ERP systems," he says, "Through development experiences, I was able to gain an understanding of all the working parts of business development." In addition, Faisal made it a priority when he joined Al Mostajed, to cut down on the paper travelling between departments. "I wanted to take on a paperless project and implement systems that cut down on the need for human intervention," he says. His initiative was a success, and was completed in the first month of his employment with Al Mostajed.
When it comes to implementing new operation technology, then, Faisal can be a tough sell. With his business development, finance and technology experience, he is armed to determine whether or not a project will be financially viable, and also make good business sense. "I have to keep a close relationship with the CIO and the IT department," says Faisal, "IT is now the backbone of most industries and ours in no exception." In short, he says, the departments need to work together to move the business forward.
Still, he says, he has to be discerning in regard to the projects that he decides deserve funding. "If finance is not controlling – if we are not mitigating the potential risks of a project – then every department will just do whatever they want," he explains. He quotes his director when it comes to funding projects, "When I first came here, I had commented to my director that it seemed difficult to keep everyone happy," Faisal recalls, "He told me that it was important to maintain good relationships with all the departments here, but it did not mean that everyone needed to be happy." The result is clear – when Faisal denies a project, it is always with the health of the company as his top priority.
Faisal pins his success at Al Mostajed, and the continuing success of the company, on an exceptionally solid managerial team. The C-level suite trusts his judgement, and encourages him to look into the details of even their own proposals. "Here, we all have good support, from the top down," he says, "One person cannot do anything, but when we work as a team, we can be successful."