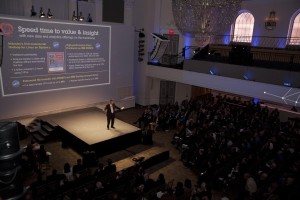 In 1961 IBM was in the midst of a crisis. It was selling a number of successful yet disparate computer lines, but they were becoming increasingly difficult to maintain and update, and the company was collapsing under the weight of the task.
On 8th April 1964, IBM announced the computer that would drag it from the mire—the System/360.
It became a huge success for the company. IBM's president at the time, Tom Watson, killed off other IBM computer lines and put the company's full force behind the system. IBM's revenue swelled to $8.3 billion by 1971, up from $3.6 billion in 1965.
The System/360 ushered in a revolutionary way of designing and building computer systems. Before the introduction, manufacturers built each new computer model from scratch. Software designed to run on one machine would not work on others, even from the same manufacturer. The operating system for each computer had to be built from scratch.
Over the last 50 years, the Mainframe has transformed the world of computing, and today houses 80 percent of the world's corporate data, and processes 1.1 million global customer transactions every second. The foundations for many of today's cornerstone technologies have their origins in the mainframe: real time transaction processing; DB2 software which was a forerunner to today's Big Data analytics; and the ability to share notes, messages and updated calendars which inspired email.
IBM used the anniversary event in the Big Apple to launch a range of new products, with its Enterprise Cloud System taking centre stage.
Built upon open standards, the integrated platform features a utility pricing model which will give service providers the ability to pay for Linux-based mainframe cloud infrastructure based on compute consumption, and comes in private, hybrid or public models. ECS will be able to support up to 6,000 machines in a single system, and combines System z hardware, IBM storage and IBM cloud management software into a single Infrastructure-as-as-Service solution.
It will also introduce a range of mobile, storage and Hadoop offerings for the mainframe. Working with IBM, Veristorm is providing commercial Hadoop for Linux on System z; its new zDoop software, which IBM says will help clients to avoid staging and offloading of mainframe data to maintain existing security and governance controls. Continuous Integration for System z is a new introduction that compresses the application delivery cycle from months to weeks. For businesses running more than 1 billion transactions per day, IBM has introduced a new version of CICS Transaction Server, which delivers enhanced mobile and cloud support for CICS.
On the security front, Security zSecure SSE has been introduced, which aims to prevent malicious attacks through enhanced security intelligence and compliance reporting. It can direct security events to QRadar SIEM to provide integrated security intelligence dashboard reporting.
Meanwhile, WebSphere Liberty z/OS Connect aims to ensure secure enablement of web, cloud and mobile access to z/OS assets. In terms of mobility, a System z mobile workload pricing plan has been introduced, where up to 60 percent can be saved on incremental growth from mobile transactions, and no infrastructure changes will be needed.
Speaking to CNME, keynote speaker Pat Toole, General Manager, System z, IBM, discussed how IBM is confident of consolidating its reputation as a comapny that offers a highly trustworthy and scalable mainframe. He said, "With the unprecedented emergence of the third platform of computing; Big Data, mobile, cloud not to mention social media and security any platform has to be adding value for new workloads, and what we offer is no different. We aim to add value by exploiting these new trends, and to ensure that our mainframe remains in-step with the emergence of new technologies which grow every few years."
Toole went on to underline the important role the mainframe plays in powering Middle East business and government, "Take Emirates airline for example," he said. "All of Emirates' system runs through our mainframe, and not only has it served them well, but with the amount of users now who carry out mobile transactions, it is important to integrate mobile applications with their systems of record, and through this insight they can create new client experiences. We're also strong in public and financial services in the Middle East, and we aim to add insight to the UAE government and boost its Smart City initiatives."
IBM called upon representatives from corporations including Citibank, Visa, the Met Office and Walmart, who all lauded the impact the mainframe had had on their business. Jim McCarthy, Global Head of Innovation & Strategic Partnerships, Visa, praised its impeccable consistency. "In the last 20 years we have had no downtime whatsoever during the holiday season through the mainframe, which is remarkable," he said.
Elijah Paintsil, Professor of Paediatrics and Pharmacology, Yale University, told the audience how IBM had enabled the wheels of a remarkable project to be set in motion. Healthcare workers in Ghana are using mobile devices to collect data that is analysed on the mainframe, which is being used to provide insights for treatment and prevention programmes. Paintsil said, "Every day 1,000 babies are born in Ghana with HIV," he said. "Before we looked to IBM, we had no system of cognitive insight, but the mainframe has given us hope that we can achieve our aim; reducing the rate of HIV infections to one percent of the population by 2020."
John Kelly, Senior Vice President and Director, IBM Research, shared his vision for the future for the mainframe. He discussed how the speed of analytics workloads would be seven times as fast, and that 5.5 Ghz processors would be introduced. He also discussed emerging technologies that will define IBM, "We see quantum technology as holding the key to the future," he said. "Mechanical learning, nanotechnology and advanced cryptography will all go into future mainframes. Cognitive systems that can reason will be a part of the future. We have seen the era of tabulating and then programmable systems, but the future is one of cognitive systems. Our mainframe is one of the few technologies that will be able to leap into the new era and flourish."