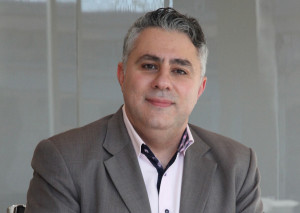 Though he may be the "money man" at a formidable advertising agency, Ralph Khoury, Chief Financial Officer, TBWA\RAAD, is no stranger to technology. "I actually began with Alcatel-Lucent, the telecommunication company," he explains.
Now, as the Chief Financial Officer of the TBWA\RAAD Network across the Middle East and North Africa, he hasn't left technology too far behind. In fact, Khoury concedes that he, nor anyone at TBWA\RAAD would be able to do business if one day IT operations came to a sudden halt. With clients like Nissan and Apple, failure is just not an option.
Every staff member's relationship with the technology is most obviously manifested in the devices they use. "I am on a PC here, because I tend to do more with accounting and Excel," says Khoury, "However, as this is a creative agency, most other departments work with Macs." Top and mid-level employees at TBWA\RAAD are provided with mobile devices as well. "We started out with BlackBerry devices," says Khoury, "as they were most reliable, secure, and are great for push emails and basic communication. Recently, however, we have been changing over to iPhones."
"In the finance department alone," he points out, "you can see we rely on technology every day. All of our transactional accounting is done using Microsoft Dynamics, and we report using a Hyperion Financial Management database." Monthly reports are transmitted to the global headquarters on Hyperion, providing immediate access to our financial results to the key stakeholders. "All banking these days is done electronically as well," says Khoury, "Payroll is processed, accounts are paid and received – anything having to do with money is mostly done via electronic transfers."
Time keeping, asset management systems and more, are all a part of the IT infrastructure and support systems at TBWA\RAAD. Though these modules are fairly common for most businesses, it is their online asset management system that TBWA\RAAD sees to promote as an important business tool with its clients.
"Clients are able to view and give feedback on newly designed campaigns using our online asset management system portal," explains Khoury. When a new layout or other campaign piece is being designed, rather than going through the back-and-forth of emails, or bringing the client in to the office, they can simply view the piece online, and ask for changes.
This frees up time for the creative teams as well as the client themselves. Khoury can see the benefits in the bottom line, but more than that, Khoury sees it as an investment in time. "This is actually a selling point for our clients," says Khoury, "It really takes a lot of stress out of the approval process, which is appreciated on both sides."
Of course when it comes to financing technology solutions and devices, the IT department has to come to Khoury for budgets and approvals. While some CIOs might find the finance department to be an obstacle, Khoury takes a collaborative approach. "Of course we sit down every year and budget for technology," he says, "every project cannot be funded, but we sort out what the most important items will be." The business case behind each IT proposal is reviewed with a cooperative attitude.
Khoury has seen technology affect the finance department, and the entire company, in many ways. "Most campaigns that we develop for our clients – I'll even say all campaigns – have a social media and online aspect to them these days." Because social media campaigns have such a high return on investment, leveraging social media is clearly a strategic growth driver in the industry, and for advertising agencies such as TBWA\RAAD. We've been early starters on this – compared with the other Regional Advertising agencies in MENA – and this helped us to fit well within TBWA's global Digital Division "DAN" (short for Digital Arts Network). Our Success on the Digital/Social Media front was recognised at the Cannes Advertising Festival in 2012, where TBWA\RAAD was the first agency – in the TBWA network and in the MENA Region, to win a Cannes gold Lion for Mobile Advertising.
Every aspect of business is touched by technology these days, however, outside the IT department, it is perhaps most acutely felt in the finance department. Without appropriate funding, IT projects are halted, and without technology, bottom lines suffer. "I have been with TBWA\RAAD for seven years," recalls Khoury, "technology has changed things quite a bit since I came. Now we can access almost any information we need on almost any device we have." It is clear that the IT department and the finance department are co-dependent in the best of ways.