In an era that is overrun with iPhones, 4G and cloud computing, it's easy to forget the relatively simplistic roots of technology. In a new addition to CNME, we trawl through the archives to find the best, baddest and ugliest innovations which continue to pull at the heartstrings today. To set the ball rolling, we take a look at the Commodore PET.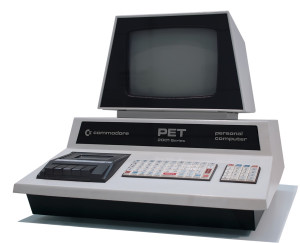 Many people have fond recollections of the famous Commodore 64.
However, before the best-selling home computer of all time was marching its way into households across the world, the Canadian born Commodore International made its personal computing debut with the Commodore PET (that is Personal Electronic Transactor). It was 1976 and Commodore International had just rejected an offer from Steve Jobs and Steve Wozniak to purchase the Apple II prototype outright. Instead, the company responded by building their own, competing unit in time for the June 1977 consumer electronics show. The PET was designed and built in merely six months. From their harried efforts came the first "all-in-one" home computer. The original PET came with a 69 "chiclet" style keyboard, a nine inch blue-phosphor monochrome monitor and, most importantly, a built in Datasette port. To be fair, it was actually quite a sporty and successful piece of machinery for its time. The PET was quite popular in the educational and computer science industries and lasted a respectable five years before being shelved in 1982.