Reseller ME evaluates how the regional electronics and IT retailers can adopt a sound omni-channel retailing strategy to monetise on the opportunities present and sustain a continuous conversation with customers.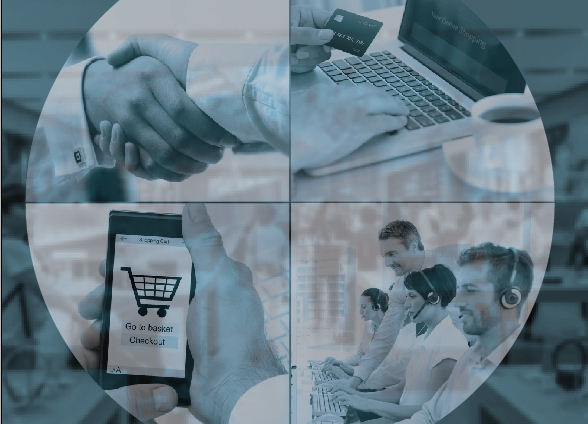 The year is 2020. Dubai resident Nash Ahmed has just turned 19, and the way he shops is drastically different to how his parents did a decade ago. Nash demands instant access to product information, so that he can buy the latest football boots, accessories and gadgets whenever, wherever.
In this not-too-distant future, the retailer that can give Nash that information – and top it up with convenient anytime anywhere purchasing models – will be the one that gets his loyalty.
With an effective strategy in place, omni-channel retailing need not spell ominous signs for regional retailers. It can be a critical component for repeat sales and brand loyalty. But when it comes down to it, achieving a seamless shopping process, is easier said than done.
Omni-channel is to be present where the customer is. Customers are slowly moving towards the 'buy anywhere, fulfil anywhere' marketplace. But retailers around the globe are only beginning to cater to the fact that a customer's shopping journey is far from being linear.
"Omni-channel retailing is the opportunity to provide your customers and would-be customers with the ability to buy what they want, where they want and how they want. It's allowing them to use multiple channels and to transcend beyond the location of your physical stores," says Omar Kassim, CEO, JadoPado. "Many retailers are now starting to realise that as their core demographic grows older, younger demographics aren't associating as well with their brands or their stores. These retailers need to figure out how to reach these customers through mediums beyond their stores."
With only 15 per cent of GCC retailers offering an e-commerce experience today, Kassim says, less than 3 per cent have a compelling experience.
"The challenge for most retailers today is getting to that compelling experience," he adds. "We saw an opportunity for us to be a part of the solution and recently evolved JadoPado into a marketplace to enable retailers to get started with e-commerce in an efficient and easy manner.
"Beyond getting to the right experience, there tend to be challenges with older technology not providing the inventory visibility that is required to build a compelling omni-channel experience. For example, are you able to show your in-store inventory to your e-commerce customers allowing them to seamlessly place a click and collect or pick up from store order?."
The key to that question is to have a homogenous approach. But today most retailers don't have that. Jacky's Retail's CEO, Ashish Panjabi, says, "This is because with most omni-channel players, e-commerce and retailing still exists as largely different animals."
Agreeing, Fares Attieh, Financial Analyst from the Lebanon-based electronics store, Abed Tahan, says, "The problem associated with multi-channel retailing is being able to align all channels together to give the consumer a consistent and homogenous experience that draws out the portrait of the business and how the company wants itself to be perceived. When a company fails to have such consistency in its different channels, the consumer obtains a disported picture of the business itself."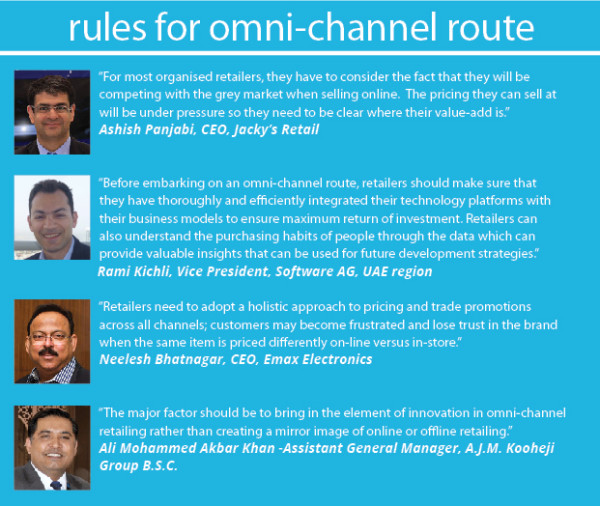 The roadblocks for the regional retailers are quite a few and varied in number.
Neelesh Bhatnagar, CEO, Emax, says, "Omni-channel doesn't mean only sales channels, it should cover the whole shopping experience, including, inventory and after-sale service. As consumers buy online using their mobiles or PCs, they expect retailers to adopt an online customer service that enhances their shopping experience. From an online returns procedure to virtual tours of stores, product inventory online and post-sale service, consumers expect retailers to offer an integrated omni-channel experience across the shopping channels."
Panjabi says, the population size of the entire country is less than that of major cities like Beijing, Mumbai or New York, which may not justify the investments required. "The other major challenge is that unlike the US or Europe, most retailers here are open till midnight and on weekends, whereas in Europe, it is not uncommon to see retailers shut on Sundays or after 7pm. This is partly why e-commerce has succeeded in Europe. Further, many retailers present here operate through franchise models and there could be franchise restrictions that hinder the growth of e-commerce," he adds.
Modifying the traditional adage, 'customer is king' to 'customer is SO-LO-MO' (social – local – mobile), Atheeq Ahmed, Sales Director, Ctroniq EMEA and GM at Headlinks, believes that the retailers' core business value has been creating shopping experience for its customers while e-tailers focus on creating virtual experience. However, there should not be any difference in terms of branding, approach or strategy. A customer should not view a retail chain differently from one medium to another, a retailer should have one identity across all channels.
"When these core values are compromised or relaxed, the business model lacks focus and is impacted deeply. Retailers should deliver distinguished digital experiences for their customers," says Ahmed.
Rami Kichli, Vice President, Software AG, UAE region, says, "The biggest challenge in meeting the omni-channel objective lies in the company's financial constraints and the investment that is required to update the retailer's technology and hire the skilled marketing agents and staff required to maximise the platform's potential.
"The IT world's commercial services segment is still evolving and, as a result, creates new demands from customers who are coming to terms about what they may like, or need. It is important that retailers are flexible enough to adapt to the market's changing currents."
Pradeesh VS, General Manager, ESET Middle East, says the retailers handling both, online and brick-and-mortar, together need detailed operational execution. "For this, it is important to have your systems linked. The main challenge most stores face is in the execution of post-sales activity. This includes on-time delivery, installation and maintenance. A proper inventory control is very important for a store to offer products online and keep their systems updated."
Retailers also need to understand that it is not just about online sales. To grow in today's market place, it is also critical to develop apps and sites suited to mobiles, which load and respond efficiently and quickly.
Another challenge regional retailers still have to face is the customers' security fears and comfort levels while purchasing online. Slim Fakhfakh, CEO, Carrefour Informatique, says, "Few clients buy online believing that buying directly from stores is more guaranteed."
Although, these fears are being appeased increasingly, as the convenience factor takes over, retailers need to make sure the payment gateways are secure and convenient for the customer. Omni-channel retailing is all about keeping the customer at the centre of the business.
By understanding and analysing these challenges, retailers can develop a strategy that is not only profitable but also customer-oriented.
There is no question that omni-channel retailing opportunities can transform a retailer's business. Technology plays a large role in enabling retailers to achieve this continuous communication with customers. Kichli from Software AG, a company that offers retail technology solutions says, "Retailers can infuse technology into their stores and provide shoppers with the opportunity to browse catalogues and even avail of certain offers designed to promote their social media sites and elicit engagement. The store can also be used as a collection point for online, mobile, and catalogue orders to provide better information. Having customers use advanced GPS systems and location recognition will help fan interest in the store's services and offer them to potential customers in the surrounding area."
A study from Alpen Capital predicts the GCC retail sales to grow by 7.3 per cent CAGR between 2013 and 2018 to reach USD 284.5 billion. Regional retailers need to plan and develop an effective customer-centric omni-channel strategy today in order to capitalise on this future growth opportunity.