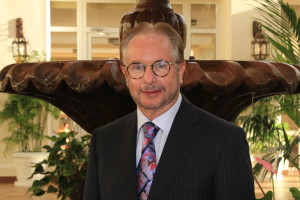 Commvault has recently launched the next-generation of its product portfolio, which it says, delivers a broad spectrum of innovation to help customers address data management challenges. We caught up the company's Chairman, President and CEO, Robert Hammer during his maiden visit to Dubai.
Why did you decide to drop the Simpana brand name with the new release of your portfolio?
That is a marketing question. As the company expands and gets into healthcare platforms and such, it is cumbersome to have layers of brands. When you sit down with a customer and lay out what you can do with our platform versus other products out there in the market, it resonates really well.
You have opened up your platform to third parties. How does that add value?
What we are trying to do here is solve a number of problems – some are traditional and some are broader. On the traditional side, in terms of backing up, there is too much data, which means the traditional backup function had to go away. Moving data from an application, writing it on an array and then indexing it on that array is not very efficient; it takes time and you are putting the data on very expensive devices. If you can index the data as it is written and apply attributes that are critical to that data, your backup shrinks to basically zero. So you are writing to our platform now, not to an array per se, which allows you to instantly recover data, which is production-ready. And you are talking about doing this on an object basis, not volume basis. With our platform, your can transport more data between different environments faster, and in some cases, it can be 10 times faster.
Now, the real value lies in what you do with that data. Data protection is a static issue; the real value goes beyond that to federated searches for a lot of things across these different infrastructures such as cloud, mobile and different hypervisors. How do you securely move data between these infrastructures and how do you enable access? And if you can do that, how do you index and manage the data where it resides without moving it? It requires lots of sophisticated analytics and is a a lot more complicated. Customers are looking for outcomes, and those are the kind of problems we are trying to solve.
You have integrated backup, archiving, data management and protection onto a single platform. But this doesn't give customers the flexibility of choice.
The single platform is critical to providing a single management layer, indexing layer and repository layer. But yes, some companies may want to buy point solutions for certain use cases such as testing and DR. We started to enable our customers to buy stand-alone solutions well over a year ago – they can buy our products in modules, or the whole stack or take a best of breed approach, depending on what they are trying to do.
Can you really shrink backup windows to zero and recover instantly?
It is not zero, but essentially zero. Recovery may not be instantaneous but take a few seconds. However, the copy doesn't have to be restored – it's just moved within seconds to users in production-ready form for applications to use it.
Are you taking a hybrid approach to backup?
You have to have a platform that is ubiquitous across repositories, and seamless for users. If you are moving from on-premise to a cloud or hyper-converged environment, the movement of data has to be seamless and it is not easy because these different infrastructures don't talk to each other. What we have done with our platform is to put that translation layer in place and secure the whole movement of data, understanding the context and federating it to make it seamless.
Is cloud-based backup gaining steam?
Cloud-based backup is indeed getting popular. But if you are moving petabytes of data from on-premise to the cloud, it is not very efficient and is costly. Cloud is being used for DR and selectively for archiving and backup. If you want to apply universal data policies across physical, virtual and new infrastructures, and search across repositories, it becomes very difficult unless you have a platform like ours.
Users are moving their workloads into virtual environments, and these workloads have different requirements in terms of management and protection.
How do you tackle this challenge?
We do understand the different requirements of different workloads, and with the new platform we are providing not just Java-based admin UIs, but simple, web-based UIs as well. We have also automated highly complex data management tasks.
Have you made any changes to the licensing model with the new release?
We haven't yet. There will be alternatives that provide customers with the flexibility tied to different ways of implementing our platform. So if users want to use our platform in an as a-service model, we will provide them with different pricing models.
Big Data is quite a buzzword now. Do you have any plans to foray into that space?
We have built quite a few business analytics applications and have done a lot of partnering in that area. We have our own data scientists and capabilities, and very soon we are going to come out with a significant healthcare solution.
If cloud becomes pervasive, do you think tapes and discs will disappear?
It already is. The movement to cloud infrastructures, whether private or public, is happening rapidly. Then you have pure Web-Scale infrastructure, which allows data centres to scale up workloads without scaling up individual servers. In the enterprise, OpenStack and OpenCompute are gaining momentum for building out cloud and virtual environments. This is a huge shift in the market. To answer your question, I don't think tapes will disappear, but will be used for long-term archival and you still need discs for instant recovery. Now, the technology is making it possible to put your tapes on the cloud.
You are facing competition from relatively new players such as Veeam and Actifio, besides traditional competitors like EMC and Symantec. How do you plan to differentiate yourselves?
None of those companies have an online platform. They don't have the capabilities to index data right down to the application level, across multiple repositories. Veeam has done a good job at the lower end of the market. But, when you start to scale and talk about any kind of granularity, they don't compete with us in that space.
Commvault has partnered with vendors such as NetApp and Fujitsu to offer backup appliances. Do you have any plans to get into the hardware market?
We are a software company and purpose-built appliances are a delivery mechanism. If a customer wanted to use a physical box for a remote site, we want to accommodate them. But with the way the market is going with cloud and new types of infrastructure, more and more of those appliances are going to be virtual. We do and continue to offer appliances for certain use cases.