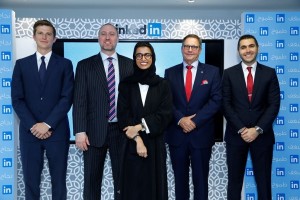 Last month I had the pleasure of attending the surprise launch of LinkedIn's services in Arabic at its Business Central Towers office in Dubai.
An air of optimism surrounded the event, with it being billed as a key step forward for providing the regional population access to a wider range of job opportunities.
LinkedIn has not only transformed the hiring process, but has also provided a neat, succinct crossroads for strangers to connect and do business.
With around 350 million active users today, the online professional networking service has burgeoned since its inception in 2003, and Arabic has become the 24th language to be added to its services
It got me thinking. Yes, this is an important step forward for a service that has been highly disruptive in the HR industry, but shouldn't there be more like it in Arabic, and shouldn't it have already been launched?
LinkedIn has more than 14 million Middle East and North Africa users today, roughly 3.5 percent of the region's population.
Perhaps this relatively low penetration is to be expected in an emerging market, but it struck me as odd that nothing had been already done.
The United Nations Educational, Scientific and Cultural Organisation named Arabic as one of its six official languages in 1974. Today it is one of the top ten most used languages in the world with a total of 300 million native speakers.
Given this prominence, LinkedIn's launch feels a tad belated given the opportunities and growth in the region, especially given the UAE recently jumped 14 places in the ICT development index to 32nd place.
True, it's easy to argue that with English the main language of business in many parts of the Gulf, most Arabic professionals who would be looking to use the service already can without any difficulties.
Vendors these days are queuing up to ram home the importance of 'SMAC' technologies – social, mobility, analytics and cloud.
With the former's status as a key disruptive technology, services like LinkedIn need to take centre stage in the Arab world to bridge the gap to those living in rural communities.
Non-English speaking Arabs need to be given the tools to achieve their potential. When they are, we'll surely see not only the region's economy benefitting, but also the tool-providing tech industry, which will has helped them get there.