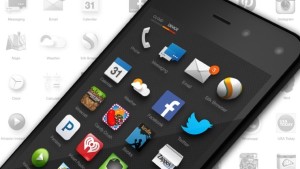 Once again man has discovered Fire, only this time there's more smoke than bright embers.
Amazon has unveiled its highly-anticipated entry into the smartphone market, and hype is brewing.
The phone has a 4.7-inch screen and quad-core processor, as well as a rear 13-megapixel camera with optical image stabilisation, and a quad-core 2.2 GHz Snapdragon 800 processor.
Amazon is also offering free image backup and storage through its AWS cloud service with the phone.
Fire users will be able to place 'recognised' items into the phone's Firefly application which can put movies, TV shows, music, books and objects into a user's Amazon shopping cart. It can also find products through barcodes or photos of labels.
But enough about Fire's features, which in fairness are of high quality. What all this adds up to is Amazon acknowledging its status as one of the cloud behemoths of the world—and leader of Infrastructure-as-a-Service offerings—but conceding that failing to enter a smartphone market that will have 20 billion users by 2020 is a risky move.
Other than promoting Amazon itself, Fire offers nothing new or disruptive in terms of the smartphone market. Alongside its hardware, it can offer Amazon Prime music, e-book and video services, but whether these can rival the stylish offerings of the likes of Apple seems very unlikely.
Amazon has entered the market with the intention of creating a direct supply line to its 237 million shopping users, and to recruit more customers to the service.
However, I believe it will struggle to shift anything like the 500 million iPhones that Apple has seen fly off the shelf. Given Amazon's prominence as a global brand, they naturally consider themselves as a company that can demand top dollar for their flagship smartphone.
But, priced between $649-749, I find it hard to envisage them selling the sort of volume to compete with Apple and Samsung. It seems that they are relying on their existing customers to purchase Fire, as there is no real reason new customers would opt for it over a Samsung Galaxy or iPhone.
Think back to Facebook's attempt to enter the market in 2013 with the customised HTC First. The phone was a flop and a few months later carrier AT&T was offering it at a discount. Speak of which, they'll be the only US operator carrying Fire at the time of launch, which is expected to be 25th July. All the more reason for it to fail. Time should extinguish Fire's burning ambition. Enough.