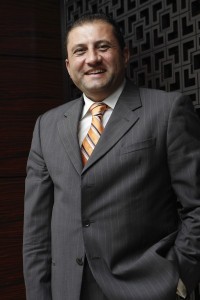 EMW announced today that it has achieved the Advanced Collaboration Architecture Specialisation from Cisco. This specialisation recognises EMW as having fulfilled the training requirements to sell, design and deploy comprehensive Cisco Collaboration Architecture solutions.
As a Cisco Advanced Collaboration Architecture Specialised Partner, EMW has invested in the training required to deliver differentiated business value through the integrated, open foundation of the collaboration architecture. Cisco Advanced Collaboration Architecture Specialised Partners work with new and existing technologies to align components of this architecture with their customers' strategic goals, helping transform business processes, boost organisational efficiency and accelerate the time to market.
In addition, EMW possesses an in house Application Development team for customisation and localisation of user interfaces keeping abreast with the latest technologies and solutions, especially Arabisation. This recognition re-affirms our technical capabilities and expertise in highlighting EMW's promise to its customers ensuring the highest expertise and quality standards. Speaking on the occasion, EMW CEO Serjios El-Hage, "Cisco Advanced Collaboration Specialisation enables us to push niche value add proposition to enterprise customers where customer service matters the most. Members of our technical staff constitute 80% of EMW ME workforce dedicated to performing very challenging and complex projects that require various levels of expertise in multi-vendor environment that differentiates the leaders from the followers. Such technologies are business enablers specifically designed and deployed at Enterprise and Service Provider type customers with large foot print across the globe to assist them in their day to day business realising huge cost savings,"
"We are also very proud to have been granted Cisco's Services Partner status which recognises and honors our technical expertise, agility and ability to deliver solutions that meet and exceed our customers' expectations in terms of performance, reliability and cost of ownership. Most of the projects completed are very complex and challenging and we are happy to sat that our success rate has been 100% no exceptions," he added.

"The Cisco Advanced Collaboration Architecture Specialisation is designed to help Cisco channel partners meet a wide range of customer needs," said Claire Jones, Channel Manager, Cisco UAE. "Achieving the Cisco Advanced Collaboration Architecture Specialisation provides EMW with access to comprehensive sales and technical training as well as support from Cisco.