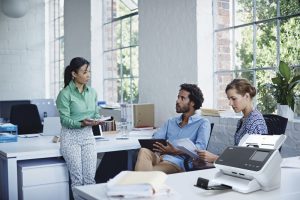 Kodak Alaris is expanding its information capture ecosystem, delivering on the promise of digital transformation for organisations in the Middle East and around the world.
At GITEX Technology Week 2017, the company will expand the previously announced Alaris IN2 Ecosystem by unveiling the Alaris S2000 Series Scanners – a new family of network/wireless and USB connected desktop devices – and showcase its award-winning software and services, which are designed to take the complexity out of information capture and improve the way people work.
The Alaris IN2 Ecosystem will be the focus of the booth at GITEX. Alaris launched its ecosystem earlier this year to help remove complexity from information capture. Now, the next wave of the IN2 Ecosystem offers new features and tight integration between scanners, software and services.
The headliner at GITEX is the Alaris S2000 Series Scanner, which according to the firm, increases productivity by automating much of the work traditionally done by people and host computers. Embedded Image Processing within the scanner delivers crisp, high-quality images without requiring a host PC. Active Feed Technology aligns the leading edge of paper to avoid misfeeds and multi-feeds and Controlled Output Stacking places paper neatly in the output tray. As a result, users spend less time preparing documents for scanning and dealing with messy output stacks.