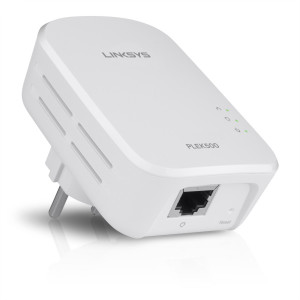 Linksys has launched the Powerline HomePlug AV2 Kit (PLEK500). The new HomePlug AV2 technology allows consumers to create a high speed network connection between two locations that is ready for high-bandwidth applications including HD/3D video streaming and gaming by simply leveraging their existing power outlets.
The new solution connects devices with speeds of up to 500 Mbps when using computers, tablets, consoles and televisions throughout their home.
The Linksys Powerline HomePlug AV2 Kit uses the latest HomePlug AV2 industry-standard technology to turn any home wall outlet into a powerful network connection.
The white, compact, space-saving design of the PLEK500 Powerline HomePlug AV2 Kit blends in nicely with the wall and leaves room for other appliances to be plugged into the same outlet or power strip.