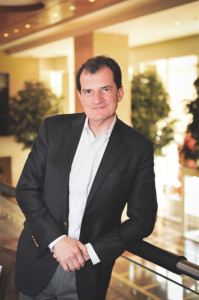 Dean Douglas, President and CEO of Westcon Group, was in Dubai recently and spoke to Reseller Middle East about a range of topics, and his company's plans for the region.
What brings you to town?
I am here for two things.  Number one is to meet our customers and the companies we represent in the region to talk to them about how the business is going and to make sure that we are properly aligned. We ensure that they understand what our strategy is and that they're comfortable with the investments we're making as we go forward. So the other piece of it is that we are getting together as a team across the entire region to talk about our business and how we plan to address the market opportunities over the next 12 months.
What kind of opportunities do you see in the region?
I see there are a lot of opportunities in the region for us to grow. Our business has transitioned over the last few years from a company that was primarily North America based—in fact, just a few years ago, we derived 80 percent of our profits from North America. But today if you look at our business, we get about a third of our revenues and profits from the emerging markets and obviously the Middle East and Africa fall into that category of emerging markets. Overall two-third of our business is from outside North America and pretty evenly balanced with our profits as well. So we don't think ourselves as a US company anymore, we think ourselves as being international.
Is the Middle East is a strategic market for Westcon?
The Middle East is an absolutely strategic market. It is very, very significant for us. If you think about it, just the Middle East is 5 percent of the global GDP, and then when you add Africa into that, it becomes a very nice market. We've been here for a while and we're not a brand new player. We know the market place. We know the resellers and systems integrators here.
Is adding value the name of the game?
The industry has gone through two major transitions over the last decade. If you looked at the industry 10 years ago, it was really about driving values through logistics capabilities and credit. In the early part of 2000s, because of what was going on in the market place, the market sort of bifurcated into broadline and value-added distribution, which was focused on driving value beyond just those elements.
What we are seeing today is a totally different transition, which is really about integrated offerings, either from a software-hardware side or integrated in terms of aggregated cloud offerings, and most importantly the integration that occurs between private and public cloud infrastructure. This hybrid model is really where the market is going to go.
So when you think about cloud and how enterprises are making decisions, it is consistent across the world. It used to be that enterprises allowed each business units to operate independently and develop their own infrastructure. But because the requirement of securing and managing the networks and devices on it has created such complexity enterprise are looking for consistent play across the globe.  And that's such the private cloud infrastructure and it becomes even more important when you start to talk about the public cloud.
So we saw that trend five years ago and embarked upon a pretty aggressive move to drive in our business a true global presence. Because we think that global presence is essential for the enterprises, resellers, SIs and vendors we are representing. They want consistency in the way we go to market, the way we market ourselves and their products, and consistency in the ability to deliver the product in a way  that the enterprise can trust  that our products are going to look the same, feel the same, react the same no matter where is the place.  We've done deployments in as many as 170 different countries for a single entity.
The cloud vendors look for the exact same thing because that's a business which has opportunities for very big gross margins, just like the software business which has very strong gross margins; the last thing they want to do is to build up teams of people to take these products to market geographically based, because that erodes significantly the value of that gross margin. And we think using the channel community as the vehicle gives them with the best opportunity to take their products beyond their home geographies across the globe. Frankly for cloud offerings, we want to take it across the globe. It's a natural opportunity now.
Do you have a play in the cloud services market?
As a distributor, we are not going to host the cloud services; that's for the resellers and systems integrators. The issue with cloud service is that is a point solution. So if you want to get a security service then you go to one player or maybe couple of players. Or you want infrastructure you go to different set of players, and if you want applications to run on the infrastructure, then you go to different players. An enterprise, whether it's SMB or a large enterprise, can end up dealing with a great number of different companies. So what distribution can do and what we are doing is creating an aggregation platform, bringing together all these offerings in a single pane of glass.