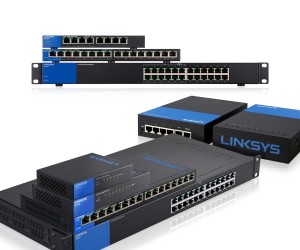 With the launch of seven unmanaged switches (three with PoE) and two new VPN Routers, Linksys announced recently that it has ventured into the Small and Medium Business (SMB) marketplace. The Linksys SMB brand was dissolved a few years ago, but now is back under Belkin International to offer a portfolio of business networking and security products that will target SMB businesses and resellers.
"It's with our commitment to honour the Linksys heritage by entering back into the SMB space to target SMB businesses and resellers with solutions that are purpose-built for SMB environments," says Mohammad Meraj Hoda, Vice President Linksys International Markets.  "Our competitive advantage is our solid 20 plus experience in the SMB space that we had earlier and we understand customers, resellers and partners want quality products with high performance while servicing them to help grow their business.  Our line-up of switches and VPN routers is the first in a series of high performance business networking and security solutions to come from Linksys."
The first product suite from the Linksys Business series will include unmanaged switches, unmanaged switches with Power over Ethernet (PoE) and VPN routers.