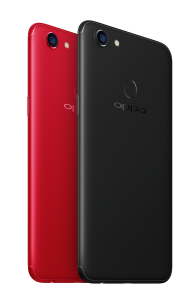 OPPO Electronics has unveiled its latest device, F5, its first full-screen smartphone featuring the firm's AI Beauty Recognition technology, which is designed to personalise and enhance a selfie image.
Priced at AED 1199, F5 was launched in the UAE market last evening. The company said that two other models will also be available later; the F5 6GB edition and the F5 Youth. The F5 was unveiled in India, Russia and the Southeast Asian markets of Indonesia, Malaysia, Myanmar, Thailand, and Vietnam on 2nd November, 2017.
 OPPO's AI Beauty Recognition technology gathers information and learns the specific facial features of different people from its global image database of human faces. Professional photographers and make-up artists were consulted during the R&D process, resulting in the AI technology which makes selfies look so much more attractive, said the firm.
"The AI Beauty Recognition technology is simply emulating the abilities of a professional photographer, who would bring years and years of technical skills and experience when taking a portrait. F5 users thus gain that similar ability to capture selfies that are of the highest quality. The personalisation is also important, because the blanket or one-style-for-all problem with today's beautification software is also solved. For example, enhancements will not be soft or feminine for male subjects. Children or babies will not receive enhancements that make them look like adults," said Sky Li, Vice President, OPPO International Mobile Business
 The F5 features a 20MP front camera with an F2.0 aperture and a 16MB rear camera with F1.8 aperture. The company said, "compared with competitors in the same price range, the F5 has a higher resolution (2160×1080) and better photo quality, capable of delivering Bokeh effects and resolving any over-exposure issues thanks to front HDR." The F5 will be OPPO's first 6.0-inch full-screen FHD+ display device, giving the user a vivid visual enjoyment without increasing the size of the phone. It features a high-resolution 2160 x 1080 screen with 18:9 aspect ratio. The F5 comes with Facial Unlock, the new face recognition technology that will recognise its user and unlock the phone. If the user prefers to use the fingerprint unlock function, the fingerprint reader is now on the back of the phone. A fingerprint reader is also available.
OPPO's Color OS 3.2, together with 4G RAM + 32GB ROM memory gives the operating system a much smoother user experience. A triple slot tray supports two Nano cards and one TF card simultaneously. The O-share file sharing technology is 100 times faster than Bluetooth.
 The F5 battery life is exceptional, thanks to the 3200Ah battery and the Continuous Optimizing technology which manages the apps running on the device, allowing the user up to 12 hours of continuous use (in a simulated test). The Do Not Disturb function for gaming will display an incoming call in the form of a banner with no interruption to games.