Red Hat together with DataTAAG has recently hosted a workshop focused on helping organisations optimise open source technologies to power their digital transformation.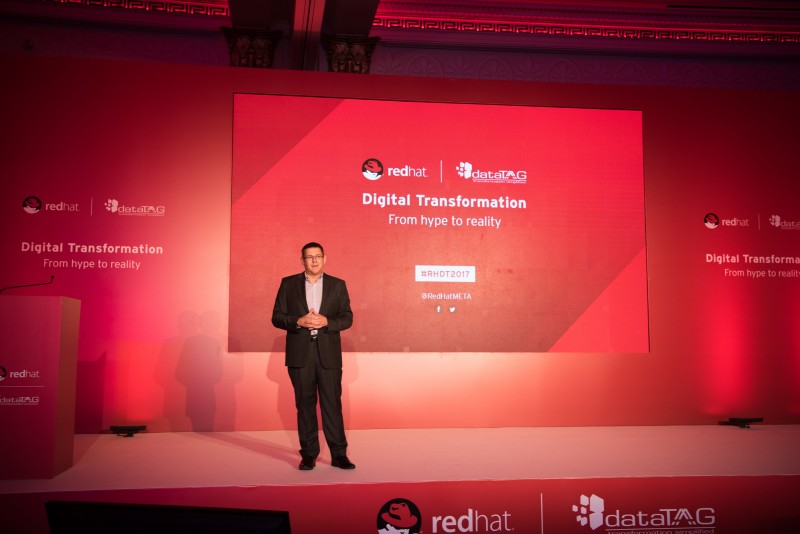 During the event, attendees were able to also get a chance to network with business leaders and tech innovators to gain a deeper understanding of products such as Red Hat OpenShift (PaaS) and Red Hat JBoss (Middleware) to further drive your business's efficiency, speed and flexibility.
Adrian Pickering, regional head, Red Hat, MENA, said, "We are seeing open source technologies being widely accepted across the region in various enterprise verticals as well as in the public sector."
He added that currently they are seeing that IT segments in Linux platforms such as cloud management, middleware, mobile applications and virtualisation are growing at a significant pace.
"We are seeing increased uptakes of open-source based technologies in the fields of financial services, travel, logistics and oil and gas," said Pickering. "As organisations become more adoptive, open source gives them the opportunity move away from expensive licence-based technologies. At the same time, since open source is strongly tied to the community that supports and contributes to it, Red Hat provides its customers with a variety of services and support around our offerings such as 24/7 support, trainings and certifications."
Speaking about the event and the partnership with DataTAAG, Pickering highlighted Red Hat's channel-centric approach. "DataTAAG is one of our up and coming partner in the region," he said. "We are doing a lot of things alongside them across multiple customers and verticals. We wanted to show them our utmost support as we believe that it's important that we demonstrate our commitment to help them succeed in their respective markets. Equally for us, it is an opportunity to broaden the awareness of both our organisations. Not every customer that DataTAAG has are using Red Hat technologies, so it is an opportunity for us to educate them on the advantages and opportunities that working with us can offer."
Najaf Ali, CEO, DataTAAG Middle East, said, "Our partnership with Red Hat has grown significantly over the last two years of being their partner. As a Red Hat Premium Business Partner, we have experienced notable growth both in the technology and business aspects of this partnership. As organisations in the region are well underway in their respective digital transformation journeys. We can see more and more organisations are adopting open source technologies and we believe that Red Hat's offerings can bring them tremendous advantages."
During the event, Red Hat's EMEA programme manager for Application Modernisation and Migration Marc Zottner, discussed the trends and strategies on how businesses can efficiently transform their application infrastructure and migrate their applications from propriety middleware to RedHat JBoss middleware. "Red Hat's open source portfolio is well-positioned to support customers in modernising their existing IT applications and help them fulfill their digital transformation initiatives. Open source technologies bring today's enterprises multiple benefits such as the capability to balance costs and innovation and staying efficient and productive at the same time. It helps developers adopt agile methodologies. And, help move IT from just being a support function into a business value add."
Attendees of the event also got a chance to hear from one of Red Hat's longstanding customers Amadeu, a provider of innovative technology solutions for the global travel industry. "Historically we have started with having proprietary technologies in our mainframes," said Gaëlle Bristiel, director, Automation and Monitoring Solutions, Amadeus. "Then 15 years ago decided to move to open source starting with Linux. Open source technologies particularly those from Red Hat help us accelerate our innovation strategies."
Amadeus has deployed Red Hat technologies such as the OpenShift Container Platform, formerly known as OpenShift Enterprise, as the foundation for its new application infrastructure. The new platform, enabled the Amadeus Cloud Services to deliver better customer service, increased platform availability, streamlined operations, and reduced time to market for new services.
"Using open source technologies such as Red Hat's also present a win-win situation in terms of learning, said Bristiel. "Being part of the open source community allows us to benefit from new solutions in the market as well us share our own innovations that can help organisations become more efficient and agile."