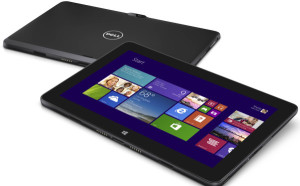 Dell's new Venue 11 Pro is clearly trying to bridge the gap between PC and tablet. In this venture, the team at Dell has run the risk of coming up short on both ends. While the hefty tablet has not by any means failed to meet the brief, its weight, and its heavy price tag, come with a few issues. It is not all doom and gloom for the Venue 11 Pro, however. The Dell Venue 11 Pro is surprisingly versatile and does flow seamlessly from work to play. It is truly business friendly and its plastic casing allows for soft touch coat of paint that creates a smudge resistant surface and sturdy feel.
The large, 11.6 inch screen comes with all the benefits and pitfalls of a larger tablet device. While the size doesn't prohibit portability, it is a good deal less convenient to tote around than its 8-inch brother, the Venue 8 Pro. Weighing in at almost 800 grams the Venue 11 Pro does feel undeniably clunky, and that is before attaching the snap-on keyboard. Unfortunately, it does feel like Dell cut a few corners with the display. Though it does boast a 1080p display, even at its highest setting, the screen seems a bit dim. Certainly not a 'deal breaker,' but in natural light, users may find themselves straining to see the screen.
Under the hood, the Dell Venue 11 Pro isn't a race car, but it's no family sedan either. The Intel Atom processor can hold its own, but the 2GB of RAM means that while you can theoretically run a number of applications at once, there is a limit. Still, it seemed to handle an HD movie streaming, and a number of applications running in the background with no issues.
The plethora of ports coupled with the accompanying magnetic snap-in keyboard does turn this tablet into more of an Ultrabook with ease. It is extremely convenient to have the keyboard, and a full USB port available when performing more detailed work on the go. However, the keyboard did experience some lag when in heavy use. This is particularly strange seeing as it is physically connected to the tablet rather than a Bluetooth set up. The dual speakers proved to be robust and clear, eliminating the need for any external audio hardware.
The bottom line is that the Dell Venue 11 Pro is adequate for business and play. However, trying to bridge the gap between tablet and Ultrabook, Dell may have had a few hits and misses. The accessories and ports are nice to have, but on an already bulky tablet, it does start to feel a bit weighty. When kitted completely out with the keyboard and cover, the price and size becomes such that one may just consider purchasing an actual Ultrabook.