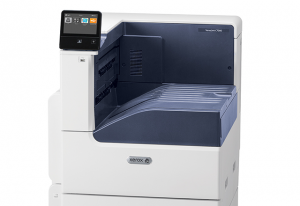 As part of the firm's ConnectKey portfolio that launched earlier this year, Xerox has announced the VersaLink C7000 colour printer. The company said that the mobile-ready and app-enabled device is ideal for small to medium workgroups to enhance efficiency and productivity.
The VersaLink C7000 is fast and reliable, offering print speeds up to 35 ppm in colour or black and white, and first page output as quick as 5.1 seconds, claims the firm. It offers a print resolution of 1200 x 2400 dpi and can handle a range of paper sizes to meet a variety of printing needs.
The other features of the device include being mobile-ready as it is equipped with Apple AirPrint, Google CloudPrint, Xerox Service Plug-in for Android, NFC Tap to Pair, and Mopria, with which users can connect and print from a range of devices and is also cloud-enabled. This means users have access to information-sharing capabilities including Google Drive, Microsoft, OneDrive, and Dropbox making it easy to work in the office or on the go. It is also customisable and easy to use because the tablet-like five-inch touch screen interface can be personalised for different work environments or users. It offers built-in apps on the Xerox App Gallery that can help organisations create workflows and expand functionality to meet their business needs. The VersaLink C7000 also offers a holistic approach to print security including Secure Print and card authentication to control access and secure points of vulnerability.
The Xerox VersaLink C7000 printer is available immediately.