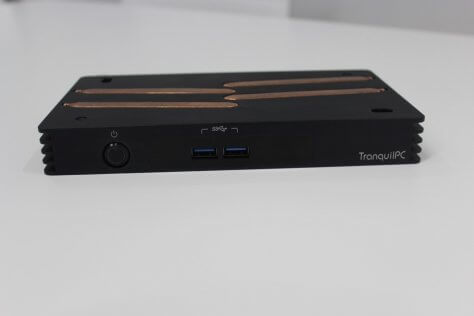 The Ultra Slim workstation is unique in its design and innovative in terms of the technology that is packed into it. The device is created by TranquilPC, a Manchester-based low-energy IT systems provider, which is a company that was acquired by 2CRSI – storage systems and HPC solutions manufacturer – last year.
Portability and form factor are two key criteria that customers consider when buying a laptop or any electronic device. Most manufacturers aim to make their device slimmer and sleeker to appeal to their target audiences. And it is not uncommon that today most products are touted as "slim". However, what makes 2CRSI's Ultra Slim workstation stand out is the fact that the company has equipped the device with full-fledged desktop computing power in a form that resembles a wireless router. Added to that, the workstation works silently without making any whirring noise unlike most devices and usually something customers have acquiesced. Customers no longer have to settle for anything that is subpar and can enjoy and customise the device's sturdy performance with top IP rating.
The all-weather capabilities and the temperature resistance up to 60-degree Celsius without any fan will be a boon to the outdoor installations and facilities, which demand compactness and ruggedness. Customers get a fast and compact workhorse when coupled with Intel Chipsets with SSD by ensuring the loading and computing speeds are at the very best always.
The device excelled in all our tests and it's not easy to impress us considering the plethora of options available at present in this segment of computing power. The winning factor was the versatility of the device in almost any scenario, be it indoors or outdoors. It's tinier and lighter than a laptop, which means the device can easily be a mobile solution when coupled with a monitor. The VESA mount helps to have a cleaner desktop with less cable clutter when paired behind a VESA supported monitor.
It is an impressive device which lives up to its pedigree of great engineering excellence.
Key features
Compact, 26 MM thickness and lightweight at just 1.1 KG
Boot speed of five seconds
IP50 All Weather Rating with Industrial Ruggedness
Fanless, noiseless and no moving parts
Great I/O Port Selection