The annual Data Centre Build roadshow visited Riyadh, Dubai and Doha for the fourth year running last month. Reporting from Dubai, the event saw a host of IT-decision makers turn out to reflect on what the future holds for data centres.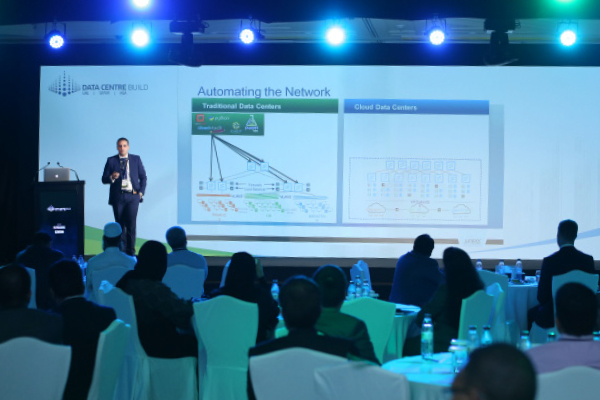 Trends like cloud and mobility are significantly impacting and driving agility in today's enterprises, making it more important for IT teams to know everything there is to know about modern data centre best practices. The redundancy of 'traditional' data centres in favour of modern, automated systems posed as a popular topic of discussion across all three roadshow events.
Kicking things off in Dubai was Taha Tungekar, Category Manager, MEMA region, HPE, who said that the latest step in the evolution towards a 'software-defined' data centre is composable infrastructure.
"HPE's Synergy Platform consists of a composable frame, which combines fabric, storage and compute resources into one single resource pool using an intelligent HPE composer," said Tungekar. "The best part about this is that for the first time in history, API is contained on the hardware. Composable systems allow IT teams to bridge the gap between legacy systems and cloud apps," he explained. Looking to the future, Tungekar discussed the development of 'The Machine' – a powerful, open, trusted and simple mechanism that claims to have the ability to "run an entire business." It aims to be a data centre so structurally simple, manageable and automatic, that "it just works," according to Tugekar.
Mohammed Al Khalidi, Systems Engineer, Juniper, was next on stage. "Agility is a key aspect we should keep in mind when designing today's data centres, as doing so will help businesses be more adaptive to the cloud era," he said. "Everything is on the rise, except traditional data centres which are in decline," he added.
Al Khalidi also pointed out the four main categories that Juniper believe are driving a lot of the new designs being implemented in today's data centres, which are: increased agility, reduced costs, enhanced experience and reduced risk. He went on to discuss the company's 'Meta Fabric', which is an open eco system that connects physical and virtual networks, in the hope of removing some of the difficulties in the changing data centre architectures.
The last speaker of the day, Mohit Pal, Enterprise Channel and Product Manager, Fujitsu, discussed the benefits of business centric integrated systems. He mentioned 'Primeflex' – a Fujitsu product intended to "make IT simple for customers" by reducing time, complexity, risk and costs. This product comes in two models: 'ready to run' and 'reference architecture.' Eye-catching statistics included claims that 'Primeflex' could reduce deployment costs by 70 percent, and double productivity and revenue rates.
At the Riyadh event, speakers included: Saleh Al Nemer, Senior Solutions Architect, HPE; Nicolai Solling, CTO, helpAG; Mark Hosking, DC and Virtualisation Lead, Juniper; Osama Abed, Technical Manager, Nexans Network Solutions; and Javed Abbasi, Principal Consultant, GISBA.
Speakers in Doha included: Mubarik Hussain, Head of IT, Petroserv; Hamad Suwaid, IT Manager, Nakilat; Mohit Pal, Enterprise Channel and Product Manager, Fujitsu; Chris Leahy, Director of Technical Facilities, MEEZA; and P.M. Hashin Kabeer, Senior Systems Engineer, EMC.