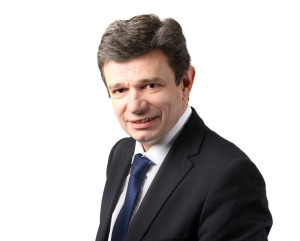 Herve Renault, Director, Channel, Alliances & General Business, SEMEA, VMware, on the company's journey towards being a true cloud-provider and the role of the channel partners in this transformation.
Software-defined networking (SDN), a relatively new trend, has been a buzz word in the regional IT space for a while now. Organisations are only about understanding the full extent of advantages it has the potential to offer and is becoming more open towards it. A new market trend, as ambiguous as it may seem in the beginning, is an ocean of opportunities for the channel players.
Sr Herve Renault, Director, Channel, Alliances & General Business, SEMEA, VMware, says, over the last few years the company has been moving towards network and storage virtualisation, besides just dealing with servers.
He says, "Today server virtualisation is becoming a commodity. Two years ago we announced the concept of software-defined networking which has the capacity to not only categorise the server but also to network and storage." In the last six months, the company has been focusing on delivering the SDN promise by positioning the right products in place.
One of the biggest bottlenecks in implementing SDN is the network. Without a robust network in place it is challenging to deploy SDN solutions. But although it is a work in progress, Renault says, the technology is taking off rapidly. "We are seeing that large banks, insurance and telco companies that have a huge IT system identify with SDN the capacity to modernise and become agile enough to answer the business issues."
For partners, Renault says, this is a big job as they are traditionally used to selling server virtualisation. And moving away from the comfort zone might require the initial push.
"We need to firstly educate, enable and incentivise our partners in this journey. Because we are in the middle of a transformation. The transformation is already in advance stages and now we need to have our partners come on board with a good investment plan and we need to offer better incentive plans and new certificate programmes," he explains.
The transformation to SDN, although begun in full swing, is far from being completed. "Many of our partners are competent and selling end user computing products or selling our monitoring solutions. The first step is to automate with virtualisation," he says. Especially when in most cases 70 percent of the old data centres are being used, there is a distinct need to monitor it.
VMware's partners have been receptive and have progressed well in this ride, says Renault. "Through a focused approach, we are only concentrating on a couple of partners. We expect SDN to be mainstream by next year and it will open up much more broadly." It is important to not only sell but implement it correctly, he adds further.
On a global level, the company is building a plan together with its partners and is investing in their training to ensure they are ahead of the curve. One of the plans the company is undertaking through this focused approach is a programme called Value Velocity which is targeted at distributors, where they are enabled to train their partners. Renault adds, "What we are doing directly with our top partners, we help the distributors to do it with their partners through Value Velocity."
Around 18 months ago or less, the channel network for VMware wasn't very strong in the region, but this is changing fast, says Renault. "We have plans to hire senior managers to look after our top partners. We want to be with our partners on a day-to-day basis and help in making more business."
The company is also looking at extending its footprint across the region. As one of the first steps in this plan, starting this year, all the North Africa and French speaking regions will be now linked to the Middle East. "We are hiring manpower who are ready to have a presence in these countries and we are also looking at dedicated marketing professionals for these regions. The approach to the channel, depending on the people, will be programmatic," explains Renault.