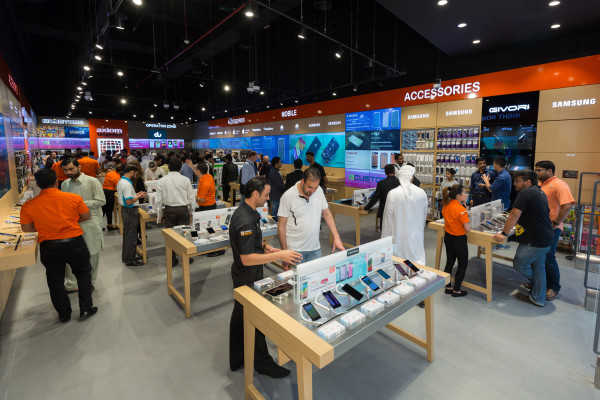 axiom telecom recently opened its new concept store at The Dubai Mall offering customers a series of services tailored to meet the demands of the UAE's tech enthusiasts.
'Experiential Shopping' is the new mantra for Millennials, who account for nearly half of the Middle East population, said axiom's Managing Director, Faisal Al Bannai, adding that the store renovation was inspired by a deep desire to enhance the way customers explore mobile technology.
"Today, UAE shoppers are looking for a more fulfilling retail experience – one in which product selection, value for money, and customer care form the cornerston­­e of their consumer journey," said Faisal Al Bannai, Managing Director, axiom. "By being first-to-market with the latest releases, and providing a wide variety of supportive products and services, we ultimately offer customers a one-stop-shop for all their mobile needs. We look forward to expanding this concept to all our stores across the region."
Responding to the country's passion for personalisation and flair for fashion, axiom has launched a dedicated zone coined 'XCustoms', a one-stop-shop for smartphone and tablet customisation in the UAE.
From gold plating, engraving, and colorful skins, to UV printing and Swarovski crystals, XCustoms allows gadget owners to express their individuality – whether it is supporting a favourite band or team, or showcasing a unique sense of style. Nearly all services are completed in-store, allowing customers to make a statement with their personalised device in no time.
Techies looking to take their mobile experience to the next level can choose from a host of more than 100 accessory brands, including industry leaders Beats, Fitbit, Jawbone, JBL, Monster, Parrot, Sennheiser, and Skullcandy. From the latest in wearables, including the Apple Watch, the Samsung Gear 2, and the Huawei Watch, to smart home solutions, axiom provides a compelling selection of the latest that mobile technology has to offer.
The store also features live demo stations for customers to experience some of these exciting technologies and accessories before making a purchase.
Fahad Al Bannai, CEO, axiom, said, "At axiom, we understand that technology needs to be backed with quality service for a truly seamless mobile experience, and that is why we are committed to providing our loyal customers continuous support. Our wide range of in-store and value added services ensures that customers have convenient access to assistance, enabling them to truly make the most out of their purchase."
From subscriptions to topping up existing accounts, the new du service desk at axiom allows customers to stay connected through a host of attractive packages.
Customers can also benefit from axiom's signature value-added services, which include Extended Warranty, 60-Second Data Transfer, Pick-up and Delivery for phone repairs, Trade-in offers, and the recently launched Damage Insurance service.