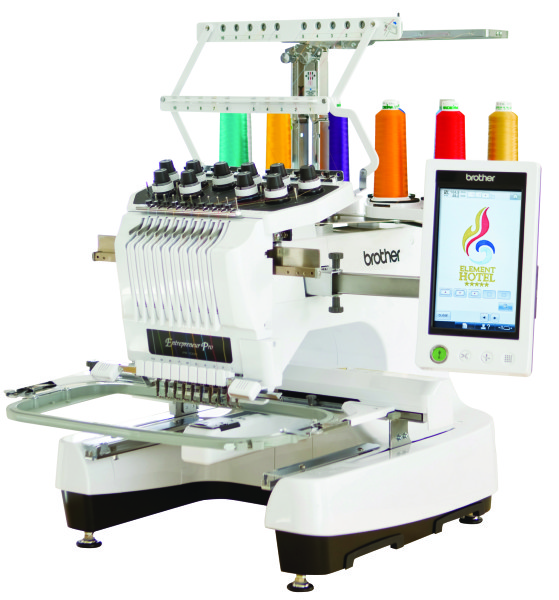 Brother International (Gulf) has revealed the availability of its new Entrepreneur Pro PR1000e embroidery machine unit in Qatar.
The new 10-needle home embroidery unit raises the bar in embroidery for hobbyists and crafters–with a particular focus on home-based entrepreneurs as the new machine produces professionally designed logos, monograms and more on a wide range of items. The new product is available at MRP QAR 42,999 at all Jumbo Electronics outlets in Qatar.
According to senior executives of the company, the new Entrepreneur Pro PR1000e utilises a 10-needle system that successfully results in key advantages like wider range of colors, extra-large embroidery area and a positioning sensor. The unit was designed with a sleek compact body, which makes it fit perfectly into small workshops and can be easily carried around for use at different events. The PR1000e is also equipped with a scanner that allows users to scan in the item on which you want to embroider, resulting in the accurate and precise positioning of the design itself. The embroidery area of the PR1000e is a large 360 x 200mm, and can embroider designs up to 360 x 360mm by using the Jumbo Frame feature. Meanwhile, the unit's Wide Cap Frame feature can embroider 360mm x up to 60mm high on caps.
Other key features offered by the new machine include an advanced natural lighting system; flexible threading system; 28 built-in fonts; LED thread indicator; forward & reverse stitch work; table attachment and pre-set embroidery frames. The company has also revealed that the unit comes with the PE-Design 10 Embroidery software, which provides users with an advanced user interface, more stitch and pattern variation choices and the ability to link your machine to up-to four other embroidery units.