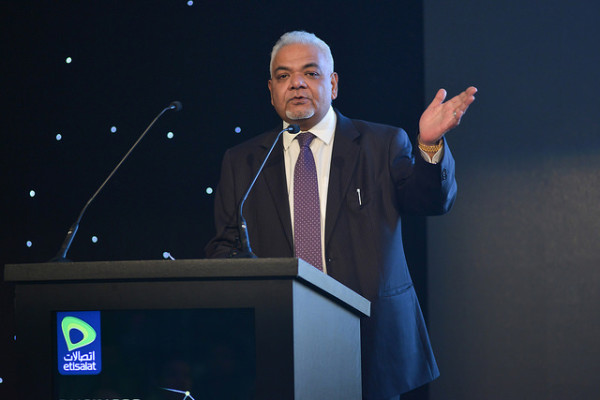 During a gala evening Etisalat Channel Partner Awards recognised the top performers in building and delivering sales to the all-important SMB sectors.
The Channel partners play an all-important role in the commitment of Etisalat – leading telecoms provider in the Middle East and Africa – to the UAE's SMB sector and ensure that tens of thousands of businesses receive a dedicated, bespoke service and product advice best tailored to their needs.
Etisalat led a series of important awards and incentive progammes for the valued Channel Partners, and the evening of June 7th put the spotlight on the top achievers who had delivered exceptional performance and secured the top honours.
So it was fitting that the evening began with presentations from the heads of the three businesses that had proven to be categorically the top Channel Partner performers, with a very warm welcome for Gulamali Mohamed Hussain, BMH Global; Bassine Mazraani, Emerging Technologies; and Parvez Sutlan Rupani, Skyline World. Their inspirational messages set the scene for the cavalcade of winners that a number of Etisalat's top executives would go on to honour as the highlight of the gala event.
The first awards to be presented were for the Top 25 Sales Executives – with each winner receiving AED5,000 in National Bonds. The prizes were presented by Esam Mahmoud, Vice President, SMB Marketing; Jose Sanchez, Senior Vice President, Pre-Sales & Customer Service; Oscar Garcia, Vice President, Business Marketing; Francisco Salcedo Montejo, Senior Vice President, Digital Services; and Hazem Mohamed Ghoneim, Senior Manager, SMB Corporate Alliance and Retail Sales.
Then it was time to recognize the Top 4 Super Sales Achievers – with each receiving the terrific prize of a brand new Nissan Sunny! The star names were –
Sajid Khan, Kyzen
Muhammad Atif Munir, Al Mumayaz
Atif Khan, Skyline
Vinod Kumar, Telephonica
But as the night drew to a close, the question was: who would win the biggest prize of the evening – the Big Bang Award, with its lavish gift of AED300,000 in National Bonds? John Lincoln – Senior Vice President, SMB, and Govind Rao – Vice President – SMB Partnership stepped forward to answer the pressing debate.
The night's ultimate award was then presented to Al Mumayaz!
The evening also showcased not only an important new Channel Partner incentive programme, but an innovative level of commitment to SMB service and development, courtesy of a dedicated, branded initiative destined to take the UAE market by storm!
Govind Rao – Vice President – SMB Partnership, announced the all-new Partner Acceleration Programme, a competition that will run over the next three quarters, kicking off with immediate effect. It offers a structured rewards incentive whereby each quarter has its own, separate target and awards. Prizes are absolutely top-notch, with Premier Channel Partners receiving a prestigious Rolex watch every quarter. Meanwhile, for Select Channel Partners, top sales performers get a Nissan Sunny every quarter – and two winners get either 1kg or 0.5kg of gold!
Esam Mahmoud, Vice President, SMB Marketing, presented news about a fantastic new SMB engagement – the Hello Business Program. Designed to offer supreme convenience and value for money to SMBs, it allows businesses to focus on their core competencies and build strong commitment to fresh levels of digitisation. Through the Hello Business Program, Etisalat provides (amongst a raft of other benefits) a personalised visit to the customer within 24 hours; a welcome call to ensure hassle-free subscription; and 24x7x365 access to a state-of-the-art, dedicated SMB call centre.
All in all, the evening was a powerful catalyst in further building the exceptional ongoing commitment of the Channel Partners, via innovative service provision that is rapidly ensuring Etisalat's perception as the leading telecoms Champion in the SMB space.